Officials rescue over a dozen people stuck on Six Flags roller coaster in Maryland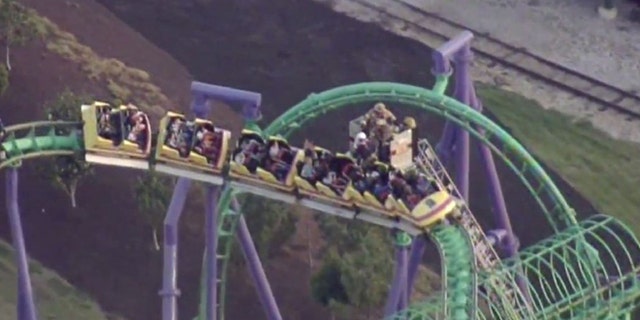 NEWYou can now listen to Fox News articles!
Fire officials reported Thursday evening that over a dozen people were stuck 100 feet up in the air on a roller coaster at Six Flags America outside of Washington D.C.
Prince George's County Fire/EMS spokesman Mark Brady said on his Twitter account that 20 riders came to a standstill around 5:30 p.m. at the theme park in Largo, Maryland.
Numbers U/D We have confirmed with @SixFlagsDC that there were 20 people on board the ride. We have brought 10 down to safety. All OK #PGFD

— Mark Brady (@PGFDPIO) April 14, 2017
According to fire officials the riders are upright and no one appears to be in distress.
Six Flags' website describes the Joker's Jinx as having a "spaghetti bowl" design, with the roller coaster doing "a cobra roll, a sidewinder loop, a corkscrew, and countless swift reversals."
Six Flags America said in a statement: "Joker's Jinx did not complete its regular ride cycle, causing it to stop at a safe location on the track. The Prince George's County Fire Department is onsite to assist in getting the riders safely off the ride. The safety of our guests is our highest priority and the ride will be closed for a thorough inspection before reopening."
Two dozen passengers became stuck, some for as long as five hours, on the same ride in August 2014.
READ MORE FROM FOX 45 BALTIMORE.
The Associated Press contributed to this report.