Official response to Colorado wildfire calls in question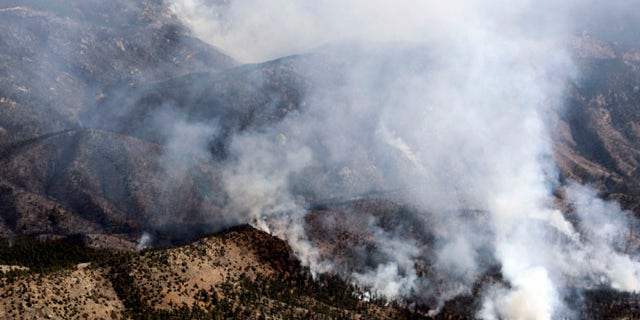 DENVER – Sam Lucas was among the first to begin calling 911 about a wildfire burning near his home on the outskirts of Denver.
But the dispatcher, having already answered a handful of calls about the fire, cut Lucas off to tell him it was a controlled burn and that the forest service was on the scene.
"We got 79-mile-an-hour winds out there and they got a controlled burn?" Lucas said on the 911 call, one of 130 calls over a total of 10 hours that were released Tuesday.
When the dispatcher says yes, he replies "Oh wonderful. Thank you."
Lucas hung up, and within an hour, he and his wife were dead.
The 911 calls from March 26 raised further questions about emergency officials' response to last week's fast-growing fire, which authorities believe killed three people, damaged or destroyed more than two dozen homes and burned 6 square miles in the mountains southwest of Denver.
Residents began calling to express concern about the fire and high winds around 2 p.m., and at first dispatchers assured them the heavy smoke and flames weren't a threat. Later they acknowledged that there was some trouble with a prescribed burn but told callers that firefighters were at the scene.
Jefferson County sheriff's office spokeswoman Jacki Kelley said sheriff's officials were aware the controlled burn had broken its perimeter that afternoon but she said the agency didn't know the fire had gotten out of control until a local fire department sent a notification at 5 p.m. She said that's when a firefighter first made a suggestion for evacuations.
"We have to listen to what groups in the field are telling us," Kelley said of why evacuations weren't called earlier. "If they're saying there's a controlled burn and the state forest service is on the scene, we don't just create evacuations for a fire that has gone outside the perimeter."
Residents in the mountains are particularly sensitive to smoke in the air, and it wasn't unusual for dispatchers to receive calls about seeing smoke from the controlled burn, Kelley said. The dispatchers' messages to callers changed as the situation changed, she said.
A neighbor has said Lucas, 77, and his wife, Linda, 76, were packed and ready to go if they got orders to evacuate. Authorities say they did eventually get one but it's not clear when.
A friend concerned about the third person who apparently died in the fire also called to ask authorities to check on Ann Appel because she was getting chemotherapy and her husband was out of state. However, that call seems to have come after it was too late to help her.
"She's a little sickly. We have no idea if anybody even knows she's there," the caller said. "We know the fire went through her property because we were able to get ahold of the neighbor."
The caller said Appel -- who didn't get an evacuation notice -- wasn't answering her phone.
Meanwhile, authorities say evacuation orders were sent in error to homes that weren't in the fire's path.
"She had her stuff to leave. The car had a flat tire," the caller said.
The dispatcher took Appel's number and address and said, "We'll get someone out there to make sure she got out, OK?"
Searchers found human remains in Appel's burned-out home on Saturday.
"The information at the time was we had a controlled burn, and fire agencies were on scene," said Jefferson County sheriff's spokesman Mark Techmeyer. "In law enforcement, you want to minimize radio traffic. There would be no reason to air out something that's already common knowledge."
He said the dispatchers weren't giving interviews about what happened.
The fire appears to have been sparked by a controlled burn set four days earlier by the Colorado State Forest Service, which says embers escaped from the burn sometime on the afternoon of March 26. A review of what happened has been ordered by the governor.
The first wave of automated calls ordering residents to evacuate was sent at 5:05 p.m. but they went to the wrong list of phone numbers, Techmeyer said.
"It was way too large geographically," he said, adding that he had no other details. "That was a user error on our end."
That call was halted, and a new round of calls was started at 5:23 p.m., he said.
The 911 recordings show that that initial bad round of notifications caused even more confusion in the dispatch center.
Calls from people who wrongly got evacuation notices are mixed with more residents calling to report smoke and fire nearby. Dispatchers appear to become increasingly overwhelmed while fielding so many types of calls back-to-back.
Simultaneously, residents who were under mandatory evacuation called dispatchers to find out if they had to leave their homes. Some of those people do not indicate they received evacuation notices before calling 911 themselves.
A caller named Neal Biller on Sunburst Drive told a dispatcher he didn't get an evacuation call but a neighbor did.
The dispatcher said he didn't need to evacuate if he didn't get a call, but Biller asked her to look up his address.
A few seconds later the dispatcher said, "OK, yeah, it looks like on Sunburst you are to evacuate, so yes, do evacuate."
"Wow. Really?" Biller said.
"I wonder why you didn't get the call?" the dispatcher asked.
"Well I'm glad I called," Biller said.
Some dispatchers did urge people to err on the side of caution and evacuate if they felt they were in danger.
FirstCall Network Inc., which provides the county's automated phone call system, said the first round of calls went to anyone who had signed up for the service on a county website, whether or not they lived in the evacuation area.
FirstCall logged slightly different times for the erroneous call -- 4:50 p.m. -- and for the start of the second round of calls, 5:16 p.m.
FirstCall's president, Matthew Teague, said the corrected calls went to 1,089 phone numbers in six waves, the last one starting at 9:14 p.m.
Teague said 12 busy signals were detected and 32 calls weren't answered. Another 90 calls went to numbers that had been disconnected or were not set up to receive voice calls. In each case, the system made three attempts to call those numbers, he said.
Intermountain Rural Electric Association, which provides power to the area, cut off the electricity at about 8 p.m., spokesman Mike Kopp said.
That could have rendered some phones inoperable, but residents with cellphones still could get the evacuation order, Techmeyer said.