Officers honored for shooting bomb-planting bank robber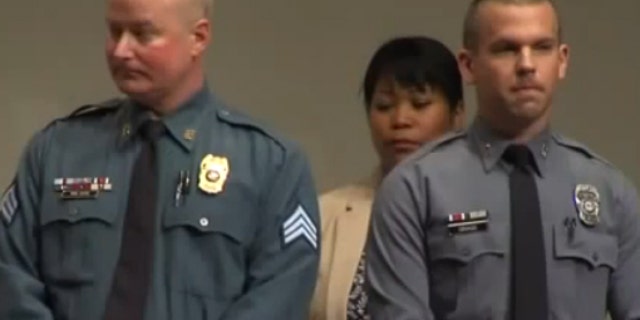 One of two Missouri officers honored Tuesday for stopping a bank robber who'd threatened to blow up a bank said he wondered "what it was going to feel like to be shot."
The Kansas City Police Department officer was at an off-duty security job on Jan. 9 when he found himself staring down the barrel of a dangerous bank robber's gun.
"Within 25 seconds of arriving to my job, I was in a fight for my life," Officer Darrin Wilson told FOX4. "I'd probably rehearsed this exact same scenario 50 times in training."
Wilson and another off-duty cop, Officer Jeremy Gragg, were both awarded the Medal of Valor on Tuesday for their actions that January day – shooting and neutralizing the bank robber, who had already planted a live bomb in downtown Kansas City and tried to carjack four people at gunpoint. It's unclear what happened to the bomb.
The Medal of Valor is the highest honor awarded to a Kansas City police officer.
"It's not a pleasant experience," Wilson said of his confrontation with the gunman, who later plead guilty to several federal charges. "It really isn't. It's not like it is on television. It's not like it is in the movies. It's reality and you have to take that home with you."