Officer who accidentally shot 73-year-old woman 'was going to kill somebody,' lawyer claims
The lawyer for a man who lodged an excessive force complaint against the Florida cop who mistakenly shot and killed a 73-year-old woman Tuesday said he'd warned people the officer "was going to kill somebody."
Attorney Scott Weinberg represented Richard Schumacher in an excessive force complaint against Punta Gorda Police Officer Lee Coel, 28. The grievance stemmed from an incident that occurred just nine months before Coel shot Mary Knowlton during a public "shoot/don't shoot" demonstration.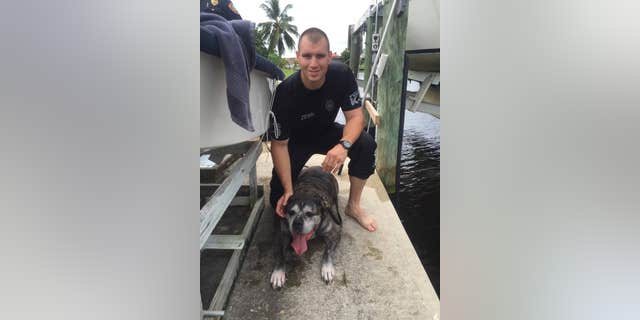 Chief Tom Lewis said Thursday he was taking "full responsibility" for the shooting. He expected the state agency to finish its investigation in about two to four weeks.
"I was demanding that he be fired months ago, and I was warning people he was going to kill somebody," Weinberg told The News-Press.
Weinberg, who termed Coel a "cowboy," said his client was severely injured when he was mauled by Coel's K-9 for several minutes on Oct. 30, 2015. Coel allegedly unleashed the dog after he claimed Schumacher resisted arrest. Coel had initially pulled Schumacher over for riding a bike without a headlight or taillight. The case is still pending.
"I don't think he [shot Knowlton] intentionally at all," Weinberg said. "I'm not saying that – but he does not have proper skills to be a police officer. If he would have been fired, this wouldn't have happened."
After an internal review of the Schumacher incident, Coel received additional training and Punta Gorda changed its rules on when police dogs could be used to apprehend a suspect, The Florida Record reported. Coel was not disciplined, according to The News-Press.
The Punta Gorda gig was Coel's second stint as a police officer. He had previously resigned from the Miramar Police Department on April 16, 2013 after a 14-month tenure there. The Florida Department of Law Enforcement told The News-Press that Coel left for failing to satisfactorily complete an agency field training program, though Coel, in his resignation letter, said he was leaving for personal reasons.
Less than a year later, in March 2014, Coel was hired by Punta Gorda.
Coel was identified Wednesday as the officer who fired the shots that killed Knowlton in front of more than 30 people at a Punta Gorda Chamber Police Night event. Knowlton was playing the "victim" in the exercise. Coel, dressed in a hooded sweatshirt and black facemask, holding a revolver, was tasked with being the "bad guy." His revolver was supposed to be loaded with blanks, The News-Press reported.
"Officer Coel is frequently seen throughout our community providing department presentations and tours and specifically role-playing in these shoot/don't shoot scenarios as well as a police presence at youth and neighborhood events," a Wednesday statement on the Punta Gorda Police Dept. Facebook page said.
"Like the rest of our community, Officer Coel is devastated by what happened and is receiving assistance from our department and the Police Benevolent Association at this time."
Knowlton's son, Steven, told The News-Press his mother would have expected him to forgive the officer. "I know the officer didn't mean for this to happen. I know he's in his own hell."
The Associated Press contributed to this report.