Obama Arrives in Storm-Ravaged Missouri to Offer Help in Healing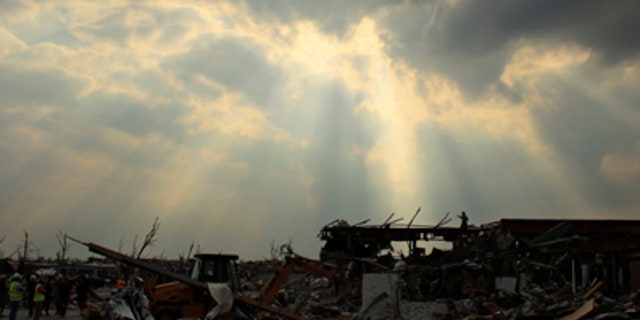 President Obama arrived in Joplin, Mo., Sunday to offer condolences and federal aid to survivors of an EF5 tornado that killed at least 139 people when it tore through the town of 50,000, taking out 2,000 buildings in its destructive wake one week ago.
Missouri Gov. Jay Nixon and others greeted Obama on the tarmac before they set out for their first stop, a walking tour of a destroyed neighborhood. A memorial service later was punctuating a day of remembrance and toil as authorities pressed on with the tasks of poking through wreckage and identifying the dead.
Obama returned Saturday from a six-day European tour of Ireland, Britain, France and Poland. After days of focusing on the U.S. relationship with the rest of the world, he turned to an even more critical connection: his own, with the American people.
He was visiting survivors and the bereaved from the worst tornado in decades, in what has racked up to be the deadliest tornado season in more than 50 years. As Air Force One swept over the landscape, flattened houses and stripped trees offered a massive swath of brown.
Looking around the neighborhood by foot, Obama eyed boarded-up windows, damaged business signs, fallen trees, piles of debris and homes spray-painted with "God Bless Everyone"
With dozens still missing, homes marked with an X meant they had been searched already for missing loved ones.
Speaking to the press after his tour, Obama said the "scene speaks for itself." He pledged that the tragedy isn't just one for the community, but one the nation will share.
"And there will be a national response," he said.
Sunday's task by Obama is a recurring one of late. He has offered handshakes, hugs and federal assistance after the mass shooting in Arizona in January in which U.S. Rep. Gabrielle Giffords was wounded, when tornadoes struck Tuscaloosa, Ala., last month and more recently when flooding from the Mississippi inundated parts of Memphis, Tenn.
In Jaspar County, where Joplin is located and the president lost in 2008 to Sen. John McCain 2-1, a few hundred people waved to the president along the motorcade route, bearing flags and snapping pictures. Some held signs that said, "God Bless Joplin."
The Associated Press contributed to this report.