Oakland residents call police on black firefighter doing his job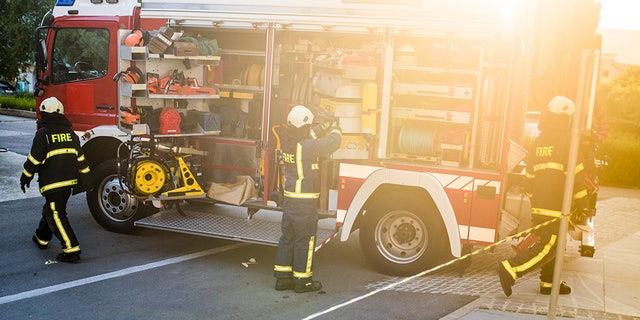 Residents of an affluent community in Oakland, Calif., reportedly called the police last month to report a suspicious man who turned out to be a black on-duty firefighter.
Kevin Moore, a firefighter with Station 24 of the Oakland Fire Department, was in Montclair Hills on May 16 doing vegetation inspections when somebody reported him. Moore's job allows him to walk around properties to check on a person's home in order to ensure it would be safe in the event of a fire, KTVU reported. Moore told the San Francisco Chronicle he understood why people would be suspicious of him walking around a person's property but he was wearing his uniform at the time of the incident.
He also yelled, "Hello! Hello! Oakland Fire Department!"
"Because I want to be heard. I just don't want somebody to look out their window and see somebody in their backyard. I'm not trying to be incognito," Moore told the San Francisco Chronicle.
CAMPERS RECALL PREVIOUS SHOOTINGS AT CALIFORNIA SITE WHERE RENOWNED SCIENTIST WAS KILLED
On that same day, a resident emailed security footage of Moore to the Oakland police community liaison officer. Vince Crudele, supervisor of the vegetation inspection program, said the officer sent him the video. Crudele said Moore was just doing his job.
"It's obvious he's doing an inspection. Kevin's wearing his blue wool firefighter pants, he's got a radio and [a department] jacket and shirt on," Crudele told the San Francisco Chronicle. "It's unfortunate that somebody would mistake an Oakland firefighter, a professional who would go into harm's way every day to protect citizens, as someone who was there for criminal intent. Kevin's out there doing his job well and representing the Oakland Fire Department with the highest integrity."
On the same day, Moore said he was confronted by a resident who was recording him on a cell phone.
"He kind of startled me," Moore said. "He says, 'Well, what are you doing here?' I say, 'We're here doing our annual vegetation inspection.' Then he asks for ID. I say no problem. He takes a picture of my ID and says I need to get a different one. I've had that ID for years. It's kind of dark, and I'm more of a dark-skinned black guy, but you can still see me."
Firefighters did not immediately disclose where those incidents occurred and did not name anyone involved.
CALIFORNIA FIRE CAPTAIN DEAD, ANOTHER FIREFIGHTER WOUNDED IN SHOOTING AT APARTMENT COMPLEX
Residents of defended the call to KTVU.
"Someone always wants to stir the pot," Carol Sensedorf, an Orinda resident, told KTVU. "I consider myself liberal, 100 percent. But there is so much robbery and it all goes on next door. Someone literally posted 'Did anyone see a man in yellow vest?' the other day. It turned out to be someone from PG&E. We call on everybody. It doesn't mean you're racist. It means you have your eyes open. I call on people all the time whatever color they are."
Not every act is inspired by racism or sexism, she added.