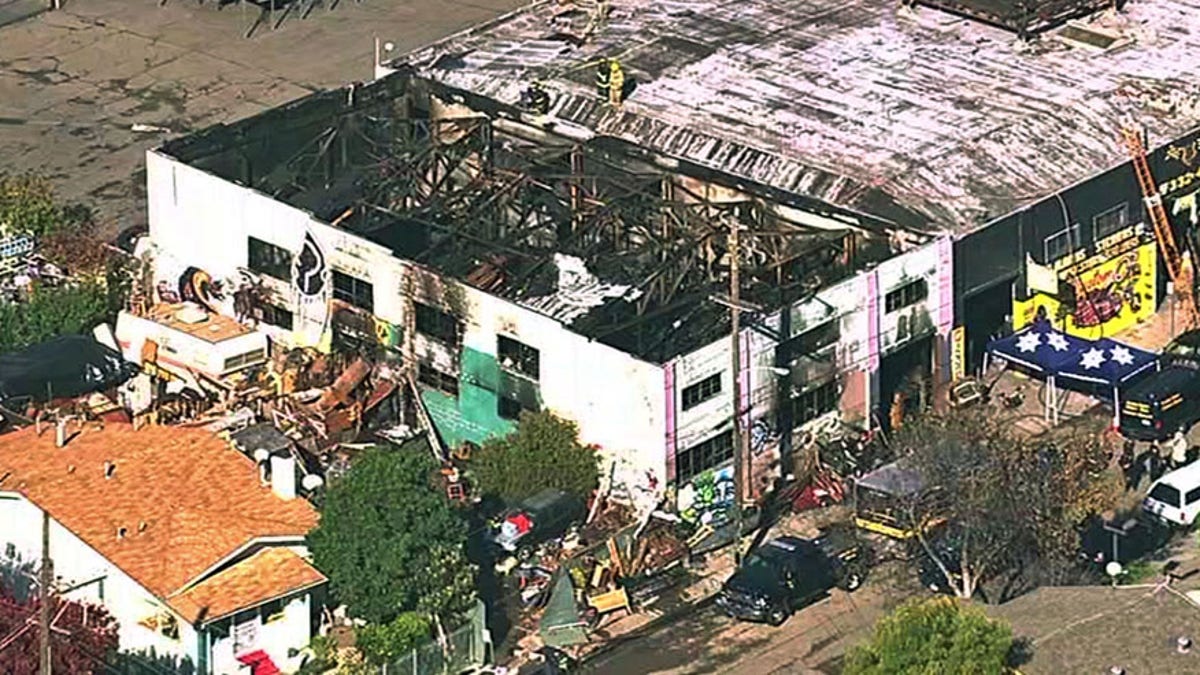 An Oakland, Calif., police officer ordered the shutdown of the "Ghost Ship" rave-party site nearly two years before it went up in flames, killing 36 people, a police body camera video reveals.
The March 2015 video, obtained by the Bay Area News Group, underscores the complaints of dangerous conditions, drugs, neglected children, trash, thefts and squabbles at the warehouse, made by city and state officials long before the fatal December 2016 inferno.
"I will be talking to the city, and we'll be dealing with this place," the officer is heard saying in the video.
The officer's report was forwarded to the vice unit, then to the department's Alcohol Beverage Action Team on Sept. 7, according to the police department.
The video shows the conversation after the officer banged on the door of the warehouse at 1:30 a.m. He tells the party promoter there have been noise complaints and reports that people were paying $25 to get in, as well as drugs being sold on the site.
"If I come back, I'm gonna give you a fine. It's gonna be a very, very expensive fine," the officer says. "I'm still gonna make sure that the city knows about this place, and I'm gonna talk to the owner of this place as well. We'll figure out what you guys are doing."
Before the fire erupted Dec. 2, 2016, during a dance party, the infractions were viewed as low priority. But "those policies have changed" since the tragedy, the police department said in a statement.
In addition to the March 2015 video, the Bay Area News Group is requesting eight other body camera recordings from the Oakland police.
In February, now-retired Assistant Chief David Downing instructed officers to cite unlicensed cabarets and unpermitted special events, and report "obvious hazardous conditions" so they could be referred to the "appropriate city or county agency."
The Associated Press contributed to this report.