North Carolina state trooper dies in car chase, suspect arrested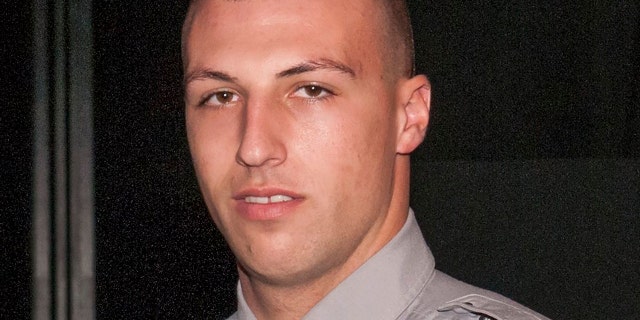 NEWYou can now listen to Fox News articles!
A North Carolina state trooper died in pursuit of a driver who blew by a driver's license checkpoint; the suspect was arrested early Wednesday, officials said.
Dakota Kape Whitt, 22, of Elkin, was taken into custody without incident at around 3:30 a.m. after an extensive search by state and local authorities, the North Carolina Department of Public Safety said.
Whitt was transported to the Wilkes County Detention Center in Wilkesboro. He was wanted on charges of murder, felony felling to elude arrest in a motor vehicle and driving with a revoked license, officials said.
Trooper Samuel Newton Bullard, 24, was killed when he and another trooper were chasing Whitt, who fled a driver's license checkpoint, highway patrol Sgt. Chris Knox said.
Whitt, driving a black BMW, drove through the checkpoint without stopping at around 10:50 p.m., according to the Winston-Salem Journal. Police initially said the BMW had three people in the car.
Police said Bullard was chasing Whitt when he crashed three minutes after the pursuit began, according to the newspaper. A fellow trooper turned around to check on Bullard and found him dead.
Bullard served as a trooper for three years.
"Trooper Bullard died as he was fulfilling his promise to the people of North Carolina, protecting and serving his community," Col. Glenn M. McNeill Jr., the commander of the highway patrol. "Our (highway patrol) family is devastated by the loss of Trooper Bullard."