North Carolina mom 'moved to tears' by police officers' act of kindness toward daughter with autism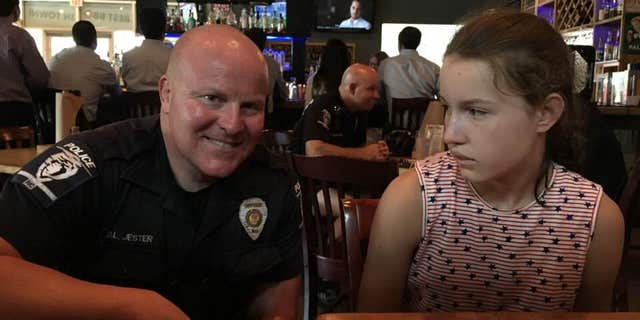 A North Carolina mom is praising a group of police officers who she said went above and beyond to show her family, especially her daughter with autism, compassion and kindness.
It had already been a long day for Cindy Frederick and her family. Frederick, her husband and two twin girls had spent an afternoon in Charlotte exploring the Discovery Place museum. At one point, their daughter, Shealyn, who has autism, became separated from the family.
The Fredericks then decided it was time for dinner, and shortly after they sat down at Queen City Q, a local barbecue restaurant, a group of police officers came in to eat. Frederick knew this could be a teaching opportunity.
Both of Frederick's twin 13-year-old daughters have special needs, but Shealyn can become mute in public. To help her daughter, Frederick creates "social stories" – a series of photographs – to make certain scenarios real for her.
Frederick decided to ask one of the officers if he would come over to their table to take a picture with her daughter, explaining it's "to help her understand that police officers are safe, especially if she gets lost."
"She has to know there are safe people out there," Frederick told Fox News.
A Charlotte-Mecklenburg Police officer obliged and patiently waited until Shealyn was able to take the photo.
"He was very kind, very patient and very loving," Frederick said of the officer. "There was no hesitation – that was impressive in itself. I'm sure [police officers] don't get long to eat."
After the picture, the Fredericks went back to eating their meal as did the officers. But when the family tried to pay for their meal, the waitress said it had already been paid for by the officers, who by this time had left.
"This really moved me to tears because there is so much negativity about police officers these days and all you see on the news is bad stuff, but these cops had a great big heart," Frederick said in a Facebook post that has been shared nearly 300 times.
"Charlotte is doing something right in training their officers."
She said she wished she was able to thank the officers for their kindness, especially the one who took the time to meet Shealyn.
"Charlotte is doing something right in training their officers," Frederick said.
The Charlotte-Mecklenburg Police Department shared Frederick's Facebook post with the caption, "A great story about great cops!"