No sign truck driver tried to avoid crash with softball team bus, investigator says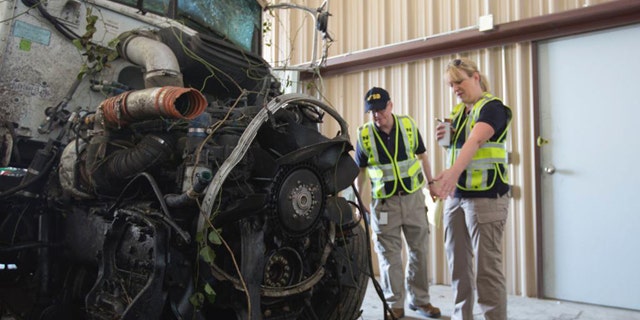 A tractor-trailer that collided with a bus and killed four members of a Texas community college women's softball team drove straight through an interstate median without any signs of braking or trying to avoid the collision, federal investigators said Sunday.
The truck was traveling northbound on Interstate 35 near Davis, Oklahoma, on Friday night. As the roadway gently curved to the right, the truck continued straight. It traveled about 820 feet through the median and struck the southbound bus carrying 15 members of the North Central Texas College team and driven by their coach, said Robert Sumwalt, a member of the National Transportation Safety Board.
Even after smashing into the driver side of the bus, the truck continued straight for another 300 feet, crossing the southbound lanes and barreling through and uprooting trees, Sumwalt said.
Asked if that suggested the driver was sleeping or otherwise indisposed, Sumwalt said: "That's going to be the million dollar question."
"Was it something with the vehicle or was it something with the operator of the vehicle?" he said.
Sumwalt said investigators found no problems with the truck's brakes, but were still trying to download the truck's data recorder, which could show if the brakes were applied.
Investigators were interviewing the softball players Sunday.
The Oklahoma Highway Patrol, which is conducting the criminal investigation, said Sunday that the truck driver, Russell Staley, 53, of Saginaw, Texas, told investigators he was distracted.
"He (Staley) said he was distracted by something in the cabin," said Oklahoma Highway Patrol Capt. Ronnie Hampton, who declined to say what the distraction was. He said investigators don't necessarily agree with Staley's explanation.
No charges are pending against Staley.
Hampton said investigators have obtained search warrants to collect evidence from the truck and the bus.
The team was returning from a scrimmage against Southern Nazarene University in Bethany, Oklahoma.
The Oklahoma Highway Patrol identified the four players killed as Meagan Richardson, 19; Brooke Deckard, 20; Katelynn Woodlee, 18; and Jaiden Pelton 20. All were from North Texas.
A dozen others were injured although all but two have been treated and released. Oklahoma University Medical Center said Bailey Buchanan, 18, was upgraded Sunday from critical to stable condition. Rachel Hitt, 19, remained in fair condition at Norman Regional Hospital, a spokeswoman said.
Community members attended a prayer vigil Sunday night at the college's Gainesville campus, just south of the Oklahoma/Texas border.
Staley was driving for Quickway Transportation of Nashville, Tennessee.
"Trusting in God's grace, we hope to one day join the college in properly memorializing these ladies lives and their legacy," CEO William Prevost said in a statement posted to the company's website Sunday.
The statement didn't refer to the truck driver.
Federal Motor Carrier Safety Administration records show Quickway had not been involved in a fatal accident in at least the past two years through Aug. 22. The company hadn't faced federal safety-related penalties in at least six years, based on available records. Quickway has 327 registered trucks and 436 drivers.
The company's out-of-service rate for safety violations -- those that would lead a driver to be pulled off the road -- was 7.5 percent, better than the national average of 20.7 percent, according to FMCSA.
Of 51 violations recorded in the past 24-month period, there were two instances of using a hand-held mobile device while driving. During that same period, there were no drug or alcohol violations.
Nationally, crashes involving a large truck or bus killed 4,281 people in 2013, little changed from the number of deaths in each of the previous three years.