No, Carson Wentz will not replace Pence as National Prayer Breakfast speaker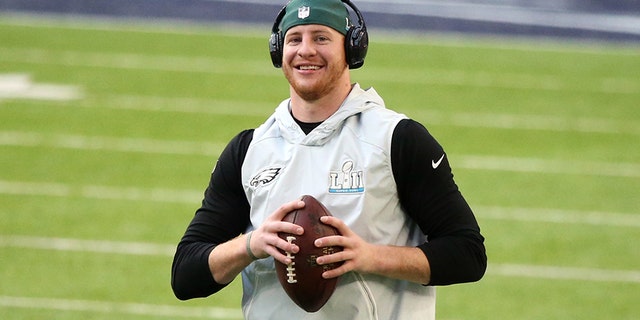 Editor's note: An earlier version of this article incorrectly stated that Philadelphia Eagles quarterback Carson Wentz would replace Vice President Pence at the National Prayer Breakfast dinner Thursday.
It turned out Super Bowl champion and Philadelphia Eagles quarterback Carson Wentz had other things to do Thursday.
The NFL star was reportedly tapped to speak at the National Prayer Breakfast dinner in the nation's capital on Thursday, but it turned out not to be the case. Wentz was, however, confirmed to be joining his teammates at a victory parade 140 miles north on the same day.
The claim that Wentz would replace Vice President Pence as the keynote speaker, who will instead be attending the official start of the Olympic Games in Pyeongchang, South Korea, appears to have started with Rep. Kevin Cramer, R-N.D., WDAZ reported.
SUPER BOWL LII SNUB? PATRIOTS' TOM BRADY DID NOT SHAKE EAGLES QUARTEBACK NICK FOLES' HAND AFTER LOSS
The actual keynoter at the dinner will be Rep. Steve Scalise, R-La., who survived being shot last summer at a GOP baseball practice.
The National Prayer Breakfast is an all-day event in Washington, D.C., where leaders from around the globe convene every year.
President Trump will kick off the day and is set to speak during the morning breakfast at 8 a.m., according to the White House's Facebook. The speech is a tradition, delivered by every president since Dwight Eisenhower in 1952, WDAZ said.
HOW TO WATCH THE PHILADELPHIA EAGLES SUPER BOWL PARADE AND CEREMONY
Wentz was benched in the midst of the NFL season with an injury, forcing backup quarterback Nick Foles to lead the team into the postseason and eventually the championship.
And just two days after the big win, Wentz shared on Twitter that he and his girlfriend were engaged, saying "She said YES! And now Maddie and I both got us a ring."
"can't wait to marry my best friend!" he said. "God is doing some amazing things and I can't thank him enough."