NJ's blue line tribute to cops violates road safety, officials warn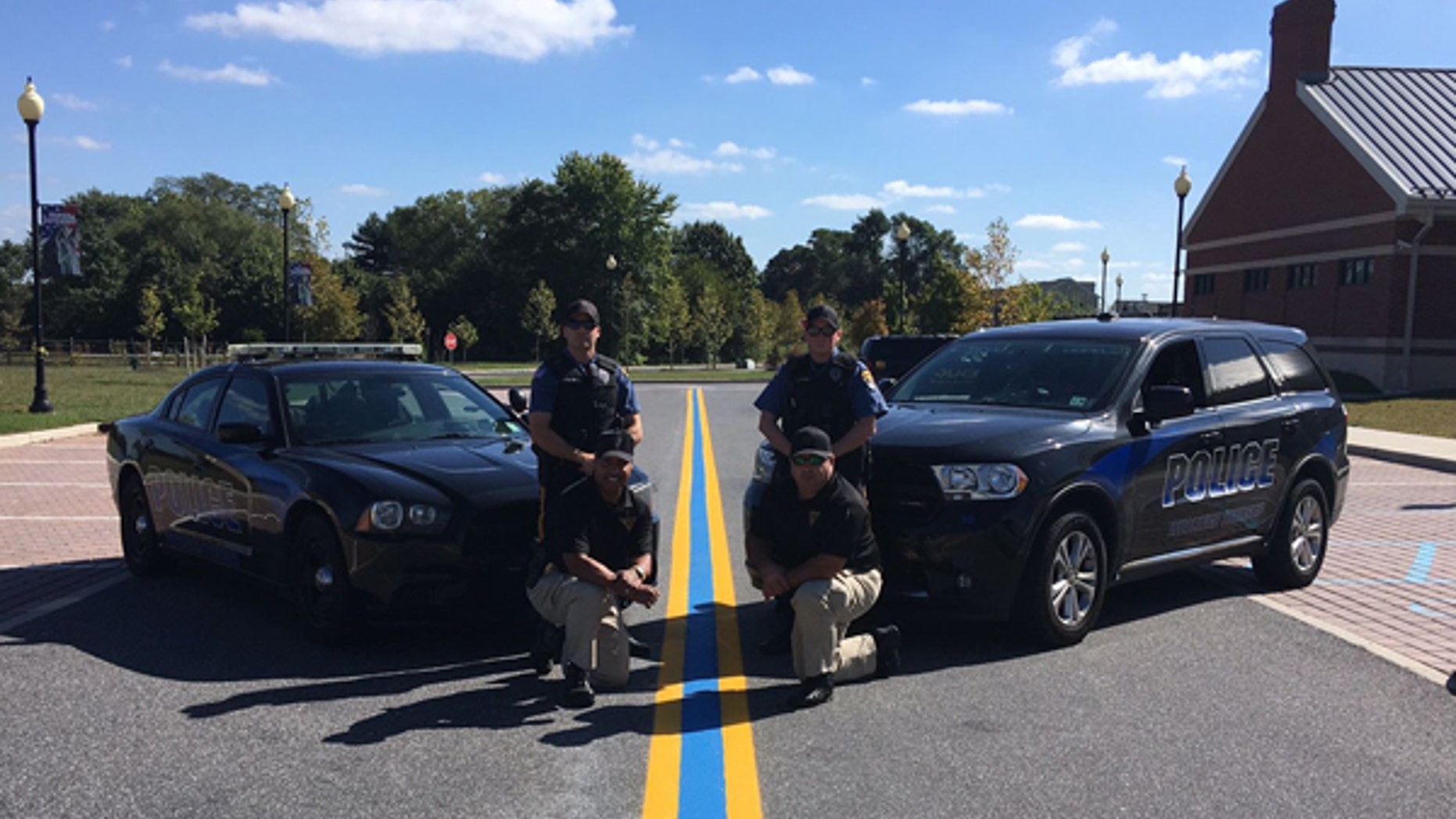 Has the Department of Transportation crossed the blue line?
It was this past October when many towns in New Jersey decided to paint a single blue line down the middle of their bustling Main Street as a show of support for police officers but the DOT is saying they should find another way to show their respect, according to NJ.com. The agency's reasoning is that it makes the roadways unsafe.
VIDEO: CHICAGO GUN MEASURES FAIL AS MURDER RATE SKYROCKETS
"There are many appropriate and fitting ways to recognize service to the public that do not involve the modification of a traffic control device, which can put the road user at risk due to misinterpretation of its meaning," reads a Dec. 8 letter from the Department's Federal Highway Administration [FHA] to the Somerset County Engineering Division. "The use of blue lines as part of centerline markings does not comply with the provisions of the MUTCD [Manual on Uniform Traffic Control Devices for Streets and Highways]."
The FHA claims that the space in between the double yellow lines should always remain empty and the MUTCD even contains a specific classification for the use of blue paint on roadways.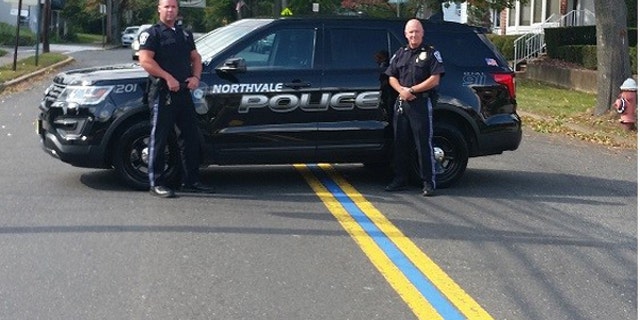 Blue is not an approved pavement color and is not to be used as such, an official ruling from 2013 entitled Application of Colored Pavement read. "Blue as it applies to a pavement marking is exclusively reserved for the background color in the international symbol of accessibility parking symbol and for the supplemental pavement marking lines that define legal parking spaces reserved for use only by persons with disabilities."
DRAMATIC GUNFIGHT IN ARIZONA WALMART CAUGHT ON VIDEO
The FHA letter also makes a point in saying that it does not condemn the support.
"We appreciate the impact of expressing support for law enforcement officers and value their contributions to society," reads a line from the letter.
The FHA letter was a response to an inquiry by Somerset County chief engineer Matthew D. Loper, who had requested clarification on federal guidelines.
Some municipalities in NJ have already asked to ditch the blue lines.
In Union County, Department of Engineering Director Joseph Graziano sent an email to police chiefs requesting they have the blue lines removed, local radio station New Jersey 101.5 reported.
Andrew Kudrik, Police Chief for Howell Township told NJ.com that while he disagrees, he would remove the line if it was requested by the county.
"Although absurd, we would paint over the approximately 200-foot line if required," he said.
"I'll just paint the entire parking lot blue at the police department."