NJ overlooked red flags to produce more diverse police recruits, lawsuit claims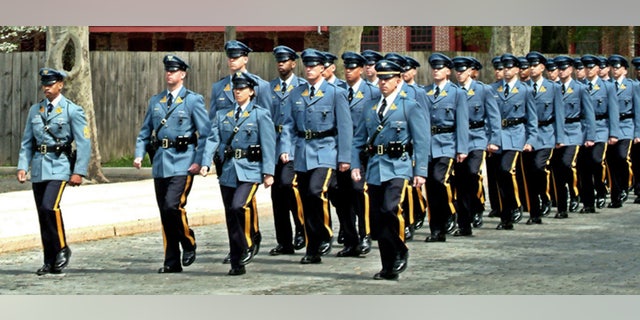 NEWYou can now listen to Fox News articles!
Under pressure from Gov. Chris Christie's administration, red flags in the background checks of New Jersey police academy applicants were overlooked in order to increase racial diversity in the State Police, according to a whistleblowing lawsuit filed by a veteran trooper.
Acting Sgt. Jaclyn Jiras served as a background investigator while the division was churning out its most racially diverse classes, in 2012 and 2013. But, according to the lawsuit viewed by NJ Advance Media, numerous applicants with "automatic disqualifiers" were "forced into the [application] process."
Among those disqualifiers were applicants found guilty of tax evasion, with active criminal warrants and with Facebook accounts showing ties to the Bloods street gang.
The push to include more minorities in the State Police ranks came on the heels of the New Jersey chapter of the NAACP threatening legal action.
"Because the academy was to start shortly and the attorney general's office determined it wanted additional 'diversity,' 20 minority candidates who had been automatically disqualified and were no longer part of the process were removed from the disqualification list and put back into the process," according to the complaint.
When Jiras complained, she said she was removed from the background investigation detail and denied a scheduled promotion.
"Out of the seven background investigations Jiras conducted, six candidates were disqualified and one withdrew," the lawsuit states. "When the next class came, Jiras was informed that she would not be doing background investigations as she was 'too good' at her job."
Jiras said she raised her concerns in a January 2015 letter to the State Police's Office of Professional Standards, but hasn't received a response.
The state of New Jersey, the State Police, Superintendent Col. Rick Fuentes and Capt. Mark Santiago are named as defendants.
Spokesmen for Gov. Christie, the State Police and the attorney general's office did not comment to NJ Advanced Media.