Nikolas Cruz charged in Florida high school shooting
The gunman accused of killing 17 people at a Florida high school Wednesday had previously attended the school, where he was known as a "weird kid" and "loner" who was expelled for getting into a fight with his ex-girlfriend's new beau, a current student said.
Nikolas Cruz, 19, made his first court appearance Thursday afternoon after being charged with 17 counts of premeditated murder in the shooting at Marjory Stoneman Douglas High School. Cruz only said "Yes, ma'am" and "Yes, your honor" during his brief court appearance.
He was ordered held without bond.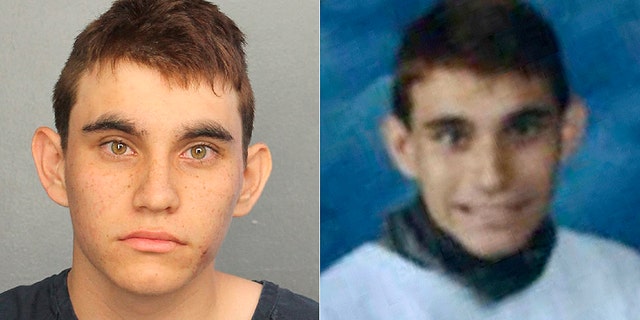 Cruz's attorney described him as sad and remorseful to reporters after court. Melisa McNeill said her client was fully aware of what's going on but he's also just a "broken human being."
According to his arrest affidavit, Cruz confessed to arriving at the high school with an AR-15 rifle and a back pack of "additional loaded magazines" and said he shot "students that he saw in the hallways and on school grounds."
Cruz also said he eventually ditched the weapons and ammunition in an attempt to "blend into the crowd," the affidavit said.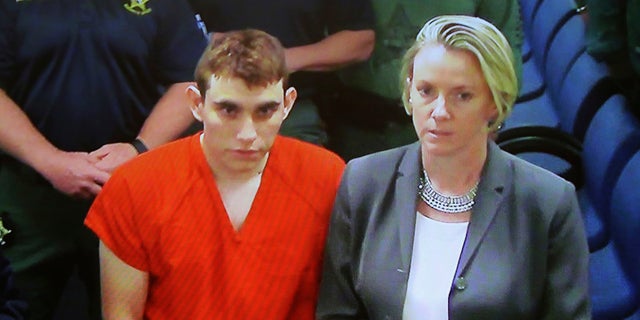 The leader of a white nationalist militia said Cruz was a member of his group and participated in paramilitary drills in Tallahassee. Jordan Jereb of the Republic of Florida told The Associated Press he didn't know Cruz personally and that "he acted on his own behalf of what he just did and he's solely responsible for what he just did." It was not immediately clear if Jereb's claims could be verified.
Fox News confirmed that Cruz took an Uber prior to the deadly shooting on Wednesday. The ride-sharing company is working to assist authorities in their investigation. When speaking to The AP, Uber wouldn't say whether Cruz's driver noticed anything out of place about the suspect's behavior or if he had his weapon or a large case with him.
Cruz was taken into custody "without incident" by Coconut Creek police in a Coral Springs neighborhood just a few miles from the high school itself. The 19-year-old was booked into Broward County Jail Thursday morning after federal and local law enforcement officials questioned him for hours.
"All he would talk about is guns, knives and hunting," Joshua Charo, 16, a former classmate, told the Miami Herald. "I can't say I was shocked. From past experiences, he seemed like the kind of kid who would do something like this."
Police said Cruz, who was identified as the only possible gunman, had been taken to the hospital for a period of time after his arrest because he "exhibited labored breathing."
"Today is a day of healing. Today is a day of mourning," Broward County Sheriff Scott Israel said.
Aaron Feis, a beloved football coach at the high school, was the first victim identified. The school's football team tweeted Feis "shielded students from the shooter" when he was struck with a bullet.
"He was our Assistant Football Coach and security guard. He selflessly shielded students from the shooter when he was shot. He died a hero and he will forever be in our hearts and memories," the tweet said.
Another 15 people were taken to the hospital. At least five people remain hospitalized as of Thursday. Two are in critical condition, hospital officials said.
The motive behind the massacre was not immediately clear. Israel said the FBI is focused on the "successful prosecution of this killer."
"Everyone was kind of just standing there calm, and then we saw a bunch of teachers running down the stairway, and then everybody shifted and broke into a sprint."
FLORIDA HIGH SCHOOL FOOTBALL COACH WHO WAS SEEN SHIELDING STUDENTS FROM GUNFIRE DIES
Students at the high school in Parkland reportedly thought they were having another fire drill when they heard shots fired. Cruz — equipped with a gas mask, smoke grenades and multiple magazines of ammunition — came on the campus during school dismissal and fired his AR-15 rifle as students and faculty barricaded themselves in classrooms, officials said.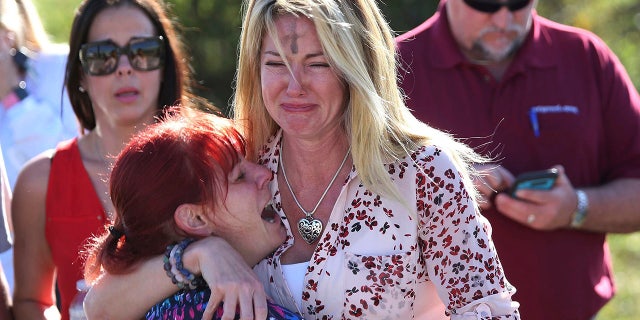 Other people ran into the streets as they heard "pop, pop, pop" in the background.
Israel said Thursday that there was an armed school resource deputy on campus at the time of the shooting, but never encountered Cruz.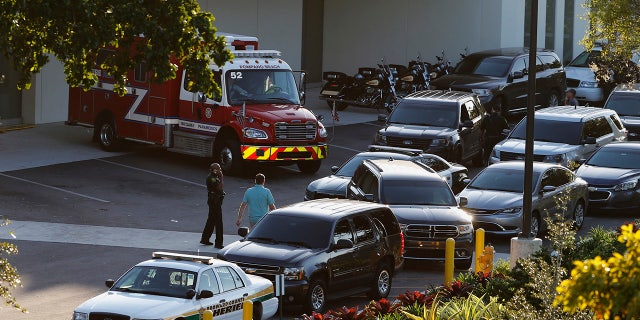 Noah Parness, 17, told the Associated Press the fire alarm went off for the second time in the day at around 2:30 p.m. Parness said students were calmly filing out of the school when he suddenly heard several gunshots.
"Everyone was kind of just standing there calm, and then we saw a bunch of teachers running down the stairway, and then everybody shifted and broke into a sprint," Parness said. "I hopped a fence."
An unidentified student described the gruesome scene in an interview with Fox News.
"The police came through the hallway to get us and in the hallway, I saw a big pile of blood, like, kind of smeared as if they were dragged away, and I saw two girls probably dead in the hallway," she said. "And then, coming down the stairs, there was some more blood and outside the building there was another guy – I think it was a teacher – who was, [I'm] pretty sure was dead."
Just before 2:30 p.m., multiple 911 calls reporting a shooting came in and authorities were dispatched to the high school, according to Cruz's probable cause affidavit. The suspect's description was blasted over police radios.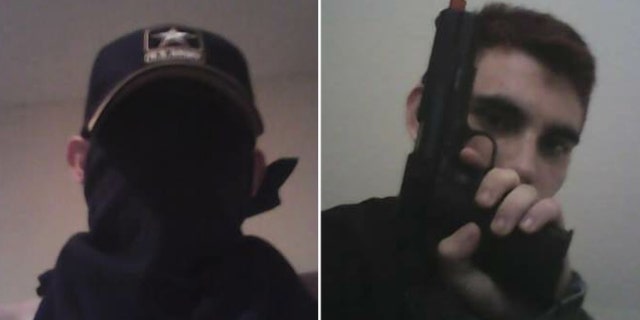 "As a result of the chaos, multiple persons were fleeing the school," the affidavit said. "After the shooting, the shooter blended in with fleeing students and was able to elude arriving officers."
He was soon taken into custody without a fight.
The affidavit confirmed that an assault rifle, which authorities traced back to Cruz, "was abandoned on scene."
"It's catastrophic. There really are no words," Israel said in a news conference Wednesday evening.
TRUMP: 'SO MANY SIGNS' FLORIDA SHOOTING SUSPECT WAS 'MENTALLY DISTURBED'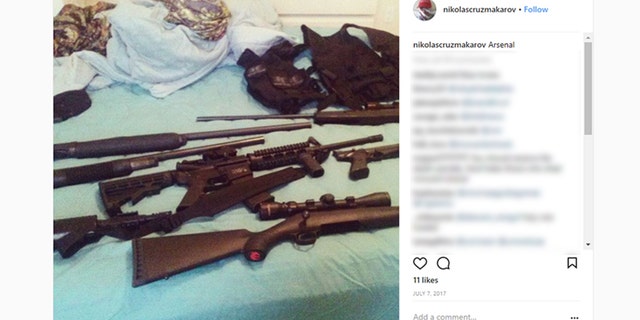 Details about Cruz's troubled past began to emerge in the hours after the massacre. His classmates described him as a "loner" and "that weird kid that you see at school." Cruz's adoptive mother Lynda Cruz died of pneumonia on Nov. 1, family and friends told the Sun Sentinel. Cruz's adoptive father also died of a heart attack years ago.
Cruz had been expelled from the high school. Victoria Olvera, a 17-year-old junior at the school, said Cruz was expelled last school year because he got into a fight with his ex-girlfriend's new boyfriend. Olvera said he had been abusive to his girlfriend.
Cruz was also described as having an "obsessive interest in weapons," according to the Miami Herald. One teacher said Cruz was banned from entering campus with a backpack, the newspaper reported.
SUSPECTED GUNMAN NIKOLAS CRUZ WAS LIVING WITH FLORIDA HIGH SCHOOL STUDENT IN MONTHS LEADING UP TO MASSACRE, ATTORNEY SAYS
An Instagram page apparently belonging to Cruz showed pictures of guns and knives. Israel said some of Cruz's social media posts were "very, very disturbing."
President Trump tweeted on Thursday about the alleged gunman: "So many signs that the Florida shooter was mentally disturbed, even expelled from school for bad and erratic behavior. Neighbors and classmates knew he was a big problem. Must always report such instances to authorities, again and again!"
Marjory Stoneman Douglas High School will be closed on Thursday and Friday.
Fox News' Elizabeth Zwirz, Shira Bush and The Associated Press contributed to this report.