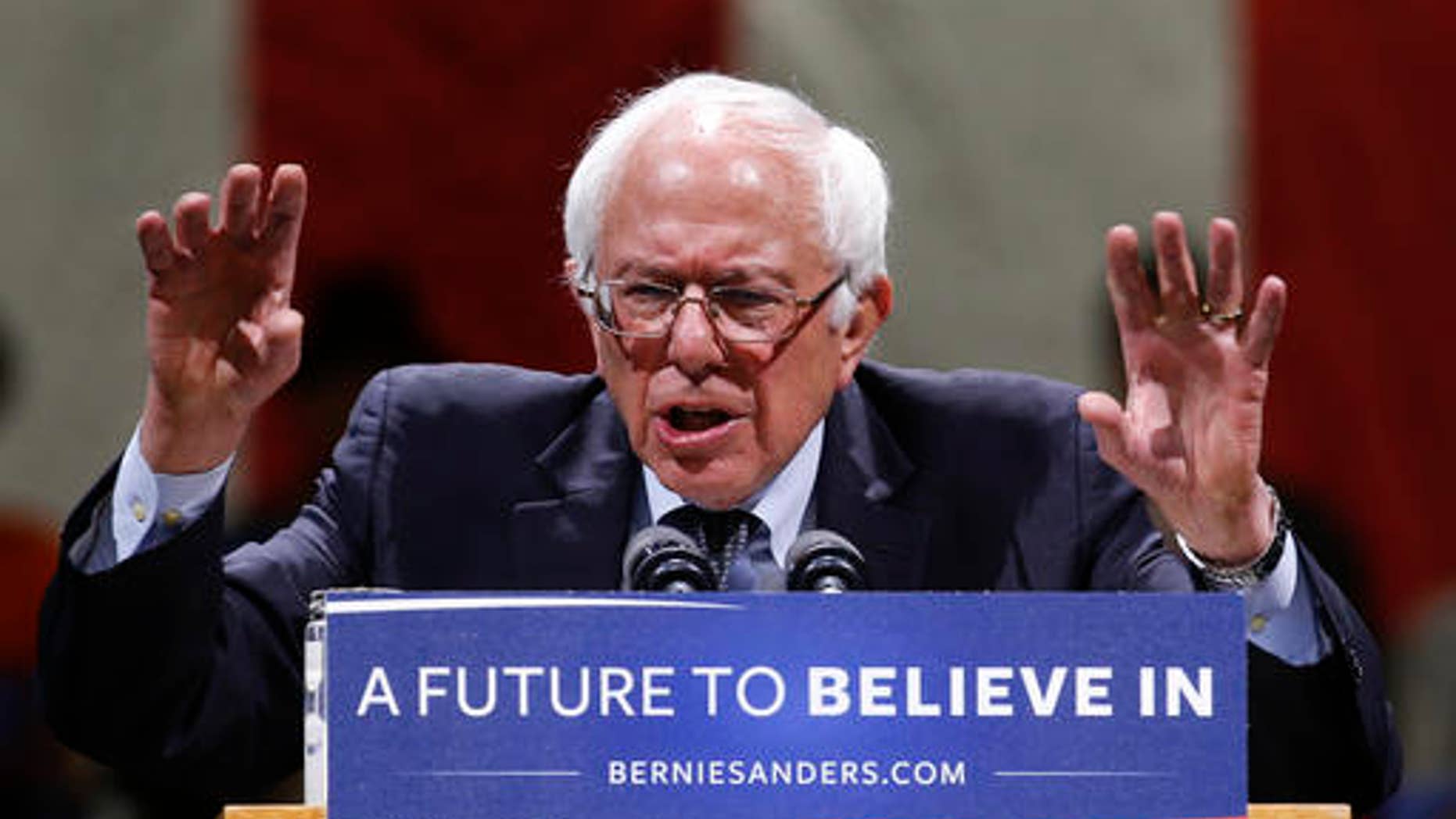 It's getting ugly as we are less than two weeks until the New York primary.. and what some are calling the other subway series.
Hillary Clinton seizing on an interview Bernie Sanders gave this week to the editorial board of the New York Daily News where he appeared unprepared on several major issues.
Hillary attacked Bernie on several fronts yesterday. Questioning his knowledge of issues and dismissing his Democrat qualifications. Clinton saying, "He's a relatively new Democrat, and, in fact, I'm not even sure he is one, so I don't know quite how to characterize him."
In response late last night Bernie Sanders called Hillary Clinton unqualified to be president suggesting her Wall Street ties and vote to go to war in Iraq disqualified her. The Washington Post reporters Anne Gearan and John Wagner write today:
Sanders's blunt assessment at a raucous rally here came at the end of a day of testy exchanges between the two White House contenders in a race that Sanders has prolonged by continuing to win nominating contests, despite Clinton's formidable lead in the delegate count.
Earlier Wednesday, Clinton launched a fierce two-pronged attack on Sanders, questioning her persistent challenger's qualifications as a Democrat and for the presidency - but stopped short of calling him unqualified for the job.
Cathleen Decker in the Los Angeles Times today writes, "Ted Cruz and Bernie Sanders reveled Tuesday in hard-fought victories in the Wisconsin primaries, but both men confront an implacable challenge ahead: math."
Donald Trump and Ted Cruz attacked each other at separate events in New York.
The Washington Post reporters Sean Sullivan and Paul Kane write today:
After his most convincing victory yet over Donald Trump in Wisconsin, Ted Cruz sought on Wednesday to shed his reputation as a divisive bomb-thrower and position himself as the candidate who can bring the Republican Party together.
But it wasn't clear whether it was working. In Washington and across the country, many mainstream Republicans who despise Trump - including many supporters of former candidate Marco Rubio - are still declining to support the senator from Texas, whose antagonism toward GOP leaders has been the centerpiece of his political rise.
The lukewarm reception highlighted the difficulty Cruz faces in recasting himself as a bridge builder after years of bridge burning.
Nate Cohn writes in the New York Times today about the breakthrough by Ted Cruz in Wisconsin:
Mr. Cruz was well ahead of the 41 percent projected by the same model. It was also above his typical results in pre-election polls.
It was foreseeable that Mr. Cruz could outperform the model this way, at least to some extent. The model didn't include any potential gains from Mr. Rubio's departure from the race, and Mr. Rubio was still on track to win about 8 percent of the vote in Wisconsin when he left. Splitting those votes evenly with John Kasich might have gotten Mr. Cruz up into the mid-40s.
But Mr. Kasich didn't exactly split those votes with Mr. Cruz; he actually fell back to 14 percent of the vote. Mr. Kasich's total was less than the model estimated (18 percent), less than the pre-election polls pointed toward (all at least 17 percent), and less than he received in nearby Michigan (24 percent) and Illinois (20 percent).
It appears that many moderate voters, who have long been the biggest obstacle to Mr. Cruz, finally broke his way. According to exit polls, Mr. Cruz won 29 percent of them -- far higher than the 12 percent he won in Michigan and 15 percent in Illinois. Mr. Kasich's share of the vote among both self-described ''moderate'' and ''somewhat conservative'' voters dropped.
It's worth noting there is voting in the presidential race in Wyoming on Saturday for Democrats.
We'll talk to Larry Sabato from the University of Virginia Center for Politics about his new Crystal Ball out today. He's changing six Senate race ratings and two governor ratings towards the Democrats direction.  He'll joins us to explain why.   
Bernie Sanders outlined (finally) a plan to break up the big banks, but let the firms themselves determine how to do it.
The hunt for delegates is on with candidates chasing single delegates and beginning the process of wooing individuals.
Karl Rove has a column out today in the WSJ on the "rise of the non-Trump GOP."
President Obama heads to Chicago today returning to the University of Chicago where he taught law to pitch Supreme Court nominee Merrick B Garland. He's trying to pressure Senate Republicans into holding a vote.
We're continuing to watch bad wildfires out West.
Brazil moving closer to impeaching President Rousseff as a new report recommends a trial, and a judge's ruling paved the way for a vote on impeachment.
The Panama Papers story continues to snowball.. with more officials in China implicated in stashing possibly ill-gotten gains in offshore accounts hosted by Panama.
Donald Blankenship was sentenced to a year in prison. He's the former head of the Massey Energy Company accused of crimes related to a 2010 explosion that killed 29 men in a mining accident.
For more news, follow me on Twitter: @ClintPHenderson