New York police close to cracking decades-old murder of cop's daughter: 'We're coming for you'
New York State Police are 'very focused' on one suspect who knew Megan McDonald
Megan McDonald, the 20-year-old daughter of an NYPD detective, was beaten to death in the backseat of her white Mercury Sable and dumped on the side of the road in Orange County, New York, 20 years ago Wednesday.
This year, New York State Police believe they're closer than ever to an arrest in the case.
"We're coming for you," said New York State Police (NYSP) Lieutenant Brad Natalizio. "And we're not going to stop until justice is served for Megan and her family, who has been suffering for 20 years."
Authorities found McDonald's vehicle at the Kensington Manor apartment complex parking lot in Wallkill, New York, two days after they discovered her body. A medical examiner determined her cause of death to be repeated blunt-force trauma to the head.
ALASKA MAN ARRESTED IN COLORADO MURDER FOR SECOND TIME AFTER WITNESSES COME FORWARD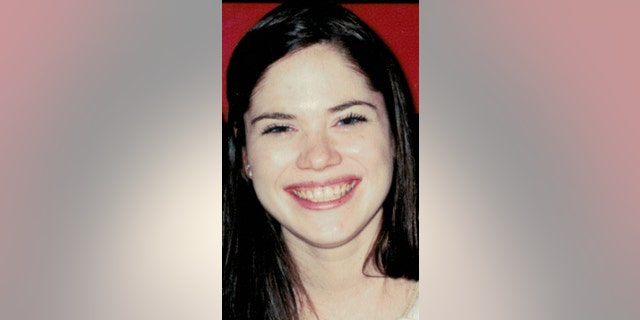 McDonald had been a student at SUNY Orange Community College and working as a waitress to pay for her tuition.
MARYLAND HIGH SCHOOL GIRL'S MURDER SOLVED HALF A CENTURY LATER
NYSP is "very focused" on one suspect who knew McDonald. They believe the 20-year-old's murder was "a crime of passion" and "intimate partner violence."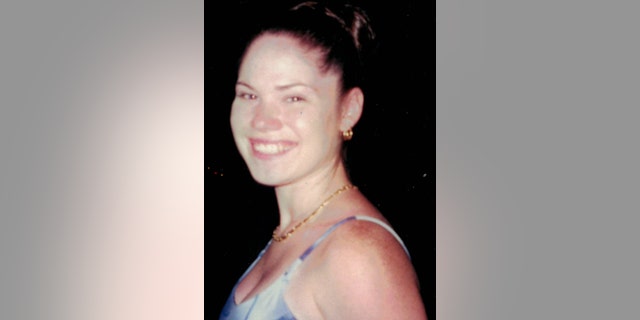 "We're getting to the point now where we see the finish line in sight," Natalizio told Fox News Digital.
The lieutenant feels a personal connection to the case for several reasons. He was the same age as McDonald, grew up in Orange County, and worked for the NYPD in 2006 before he eventually moved back upstate.
"Prior to getting promoted to investigator, when I was on patrol, I was actually … driving around and my wife — my girlfriend at the time. She texted me, and she asked, 'Hey, do you know Megan McDonald?' And I said, 'Yeah, I've heard of her.' It's a very popular case in the Orange County area," Natalizio recalled. "And she said, 'If you're ever promoted to investigator, I … want you to get that case. And I want you solve that case because I work with her mom at the hospital.' They were both… registered nurses on the same floor. It hits home."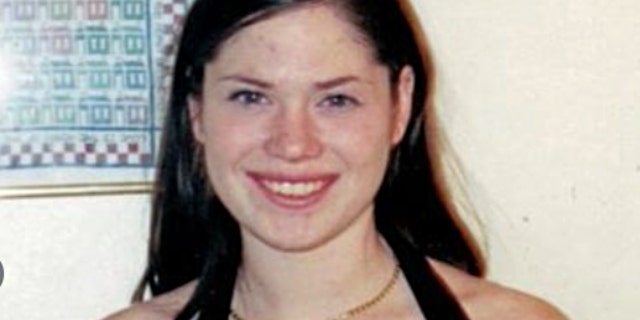 When Natalizio eventually began working for the NYSP, he took on McDonald's case in 2017 and hasn't stopped digging since despite several job changes, calling the work a "community effort" across departments, personnel and the community.
DNA STRANDS ARE KEY IN SOLVING COLD CASE INVESTIGATIONS THROUGH GENETIC GENEAOLOGY
Their current suspect "flew under the radar for the first several years of the investigation because there was an original suspect that the police and even the suspect were focused on," he explained.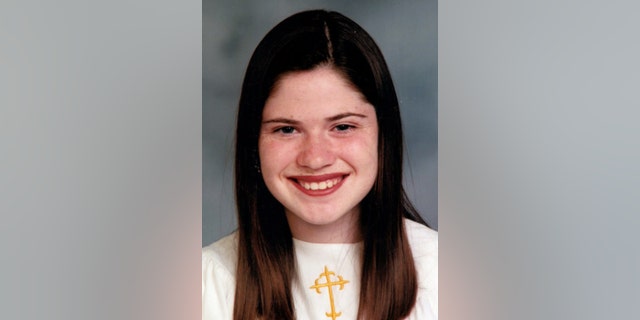 Police have since been able to "confidently eliminate" that individual as a suspect and have narrowed down their focus to the new suspect. The New York City Detective's Endowment Association and FBI have offered two separate $10,000 rewards that could lead to the suspect's arrest.
In a March 12 statement posted to the Facebook group "Justice for Megan McDonald," her family said that "as always," they stand "with the State Police" and are "grateful for the enormous amount of support from other agencies."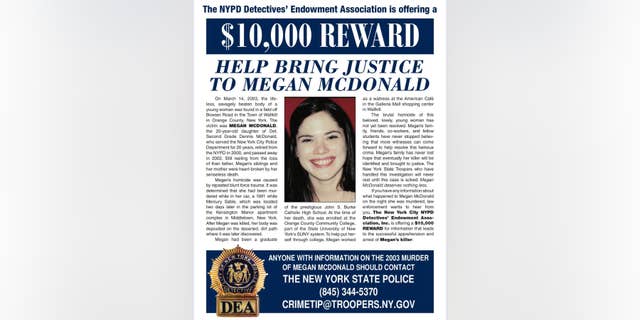 "There is nowhere this COWARD can hide from all of them," they wrote.
CLICK HERE TO DOWNLOAD THE FOX NEWS APP
McDonald's father died in 2002, a year before she was killed.
Authorities are asking anyone with information about this case to call State Police Middletown BCI at 845-344-5300. Anonymous tips may be called into the Troop F Major Crimes confidential tip line at (845) 344-5370 or emailed to crimetip@troopers.ny.gov