New volcanic fissure reported in Hawaii while residents brace for possible major eruption
HILO, Hawaii – A new volcanic fissure opened up Monday on Hawaii's Big Island -- bringing the total up to 19 -- as fears continue to grow that one of the world's most active volcanos is headed toward a major eruption.
Hawaii Civil Defense officials said the new fissure was located near the Lanipuna Garden Estates area, a northeastern side closest to the geothermal plant on the Big Island. The latest fissure is between fissures 15 and 16.
Civil Defense officials added that fissure 17, which opened over the weekend, is still active.
"A narrow lava flow has been generated and is slowly moving toward the ocean, which is about two miles away," the agency said. "There are no homes or roads threatened at this time."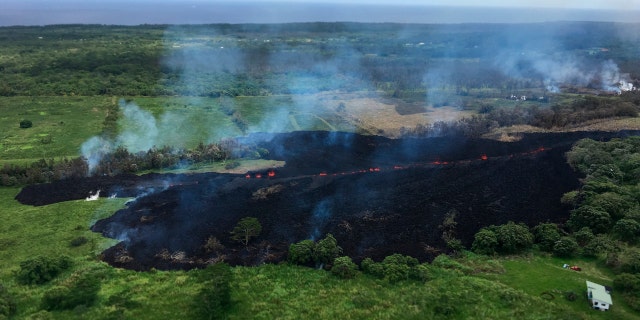 The new fissures over the past two days only add to the concern already building that a violent explosion may be yet to come. The next explosion could hurl ash and boulders the size of refrigerators miles skyward, shutting down airline traffic and endangering lives in all directions.
HAWAII VOLCANO SPURS NEW EVACUATIONS ON BIG ISLAND AFTER NEW LAVA FISSURES REPORTED
The threat of explosive activity will rise as lava drains from the summit of Kilauea and explosions will be possible in the coming weeks if the lava dips below the groundwater table, the U.S. Geological Survey (USGS) said. If lava drops below the groundwater level, it can heat up the water and create steam.
Since scientists have monitored the water levels inside the volcano, it has receded 1,000 feet as of Monday.
The Hawaii National Guard is prepared to use ground convoys and helicopters to help evacuate hundreds of residents stuck in the southeast corner of Hawaii's Big Island should Kilauea make it impossible to get out, authorities said.
HAWAII VOLCANO EVACUATION ALERT MAY ARRIVE ON SHORT NOTICE, OFFICIALS WARN
Officials also are asking vacation rental properties to close up shop in Lower Puna to "relieve the demand for water and to reduce the area population so emergency operations can focus on residents who live in the area."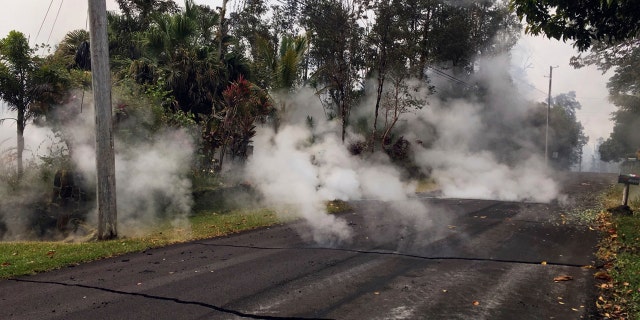 They also ordered all of the parks in the area to close. One of the only ways in and out - Highways 132 and 137- will remain open but only for local traffic.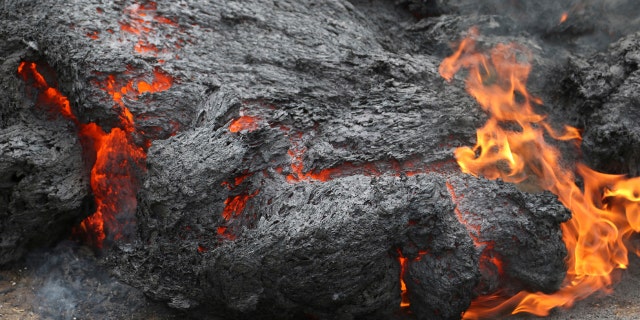 Cracks along the highway have worsened in the last few days, with authorities fearing even more fissures could form. Residents have said they fear getting cut off when, not if, the major roadway gets shut down.
"I'm in the shelter because if the highway gets cut off, I'm stuck on my property," resident Shannon Malina told Fox News. Malina has been living at one of two American Red Cross emergency shelters in the area.