New Orleans braces for possible Harvey flooding amid pump failures
New Orleans, already bogged down by inches of rain from previous storms, braced for more flooding from Hurricane Harvey on Sunday as the city scrambles to repair its malfunctioning pump system.
Rain from Harvey, which downgraded to a tropical storm a day after making landfall as a Category 4 hurricane late Friday, threatens to dump up the 8 inches of rain starting Sunday. New Orleans Mayor Mitch Landrieu said in an update on Saturday the city's contractors are working "around the clock" to repair all power and pumps."
"Yesterday, contractors completed repairs to another large drainage pump at Drainage Pump Station No. 6, which brings the total to four large pumps returned to service since August 6," the city said in an update.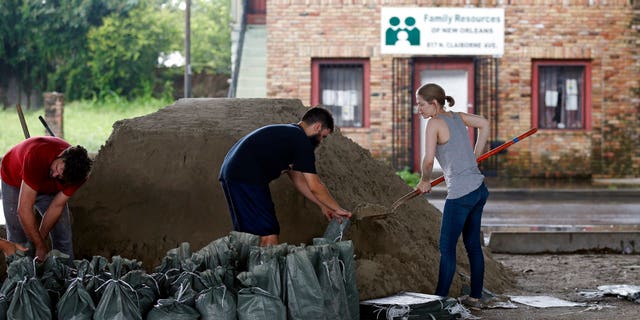 Nearly 40 boats and 20 high-water vehicles with rescue supplies were scattered at various fire and police station in preparation. A mandatory evacuation was not put in place since the storm did not directly hit New Orleans, but residents were urged to prepare for a "shelter in place" if flooding worsens.
Mike Shields, a forecaster with the National Weather Service's Slidell office, told NOLA.com the storm seems to likely shift farther west than previously predicted, but New Orleans is still not completely clear of Harvey's path.
"It's looking much better than it was, but we're still not off the hook," Shields told the news site.
"The threat has decreased somewhat and shifted further west, but there is still some threat," he added.
The city's pump system failed after a storm dropped 9.4 inches of rain in three hours earlier this month. Pumping stations in two of the hardest-hit areas went down to half to two-thirds capacity. City officials and spokespeople then said repeatedly all 24 stations were working at full capacity.
Harvey wreaked havoc in southeastern Texas and caused "catastrophic flooding" in Houston as of Sunday. Houston Police Chief Art Acevedo said its 911 system was "overwhelmed" by the number of calls coming in.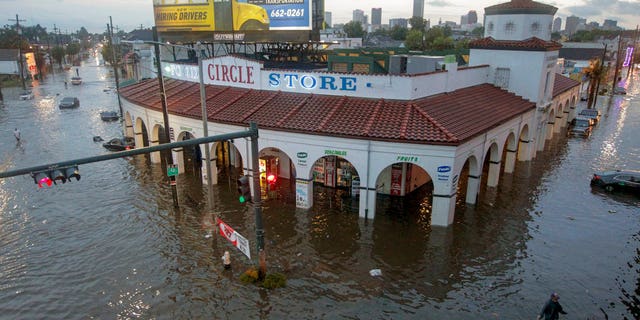 President Trump announced on Twitter Sunday he will be making a trip down to Texas to access the damage.
"I will be going to Texas as soon as that trip can be made without causing disruption. The focus must be life and safety," Trump tweeted.
He sent out an earlier tweet saying he was "closely monitoring" the storm from Camp David.