New Jersey mayor Booker treated after helping at fire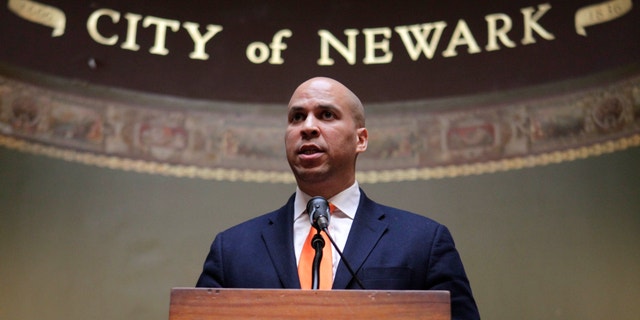 NEWARK, N.J. – The mayor of New Jersey's largest city expects to have more to say Friday about how he helped rescue neighbors from a fire.
Newark Mayor Cory Booker was treated and released from a hospital after suffering from smoke inhalation and second-degree burns.
Booker had a bandage around the thumb and first finger of his right hand. He hugged the sister of the woman who he saved and told News 12 New Jersey early Friday that he thanked God everyone was OK.
Booker arrived home Thursday night to find the house next door on fire. The mayor and two of his security detail entered the home to help residents escape, his spokeswoman Anne Torres said.
The woman Booker helped save was in stable condition at Saint Barnabas Medical Center in Livingston with burns to her back and neck.
Booker, a prolific social media user, tweeted late Thursday that he was fine and thanked his followers for their well-wishes.
"Thanks 2 all who are concerned. Just suffering smoke inhalation," Booker tweeted. "We got the woman out of the house. We are both off to hospital. I will b ok."
He then posted a tweet early Friday morning that read: "Thanks everyone, my injuries were relatively minor. Thanks to Det. Alex Rodriguez who helped get all of the people out of the house."
Newark Fire Director Fateen Ziyad told The Star-Ledger of Newark that Booker had recounted to him how he heard a woman yelling "I'm back here," from a back bedroom when the mayor rushed into the building but was held back by his security detail. The mayor yelled at his security guards to release him, saying: "She is going to die, she is going to die," Ziyad told the newspaper, adding the mayor crossed through smoke and flames to grab the woman and carry her in his arms out of the building.
The cause of the fire is not yet known.
Booker is known for coming to the aid of his constituents, even helping them shovel snow during a blizzard that crippled the city and Northeast in 2010.
The mayor has scheduled a news conference at his home at 10 a.m. local time Friday.