New Jersey bear that walked like a human believed killed by hunter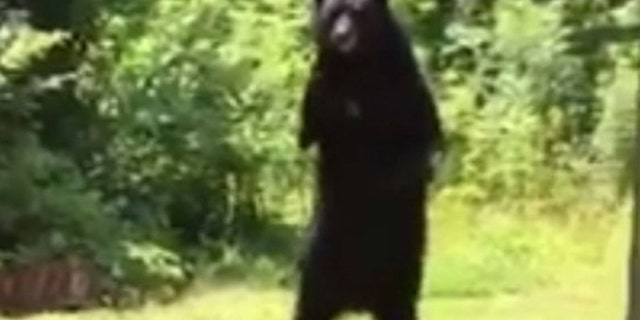 A New Jersey black bear that became a social media sensation after it was filmed walking upright on its hind legs is believed to have been killed last week during the state's five-day bow hunting season.
A post on a Facebook page dedicated to the bear, known as "Pedals," said an unidentified hunter brought the animal's body to a check station in Rockaway Township Monday.
Pedals became an Internet favorite in 2014, when local residents began posting photos of him on two-legged jaunts through their yards. Experts suggested that the bear likely suffered from an injured leg or paw that didn't allow it to walk comfortably on all fours.
The bear was last spotted this past June, and officials said at the time that they expected Pedals to make it through the winter.
The New Jersey Division of Fish and Wildlife confirmed late Friday that a bear with "injured limbs" had been brought into the station on the day in question. However, spokesman Robert Considine cautioned that there was "no way of verifying the identity of any bear that has not been previously tagged or had a DNA sample previously taken."
The Bergen Record reported that Pedals had never been tagged by the department.
Activists had pushed for Pedals to be moved to a sanctuary in New York state, but New Jersey officials have said they won't allow the bear to be captured and transferred to the facility. The state Department of Environmental Protection said in June that they believed the bear would fare better in its natural habitat.
The New York Times reported that 487 bears were killed during last week's hunt, the first in New Jersey since the 1960s.