NCAA to hold Oct. 28 procedural hearing in UNC academic case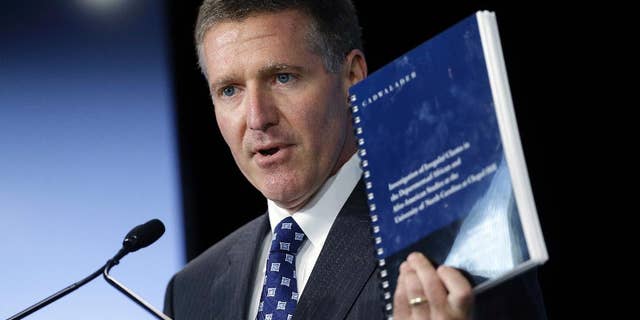 NEWYou can now listen to Fox News articles!
RALEIGH, N.C. – The NCAA's academic case against North Carolina now has an added step likely to delay resolution a little longer: a procedural hearing.
The school is scheduled to appear before an NCAA infractions committee panel Oct. 28 in the case tied to its long-running academic fraud scandal. But the hearing will focus on UNC's procedural arguments in its response to five serious charges instead of whether violations occurred on the Chapel Hill campus.
The school released a letter Friday from the NCAA setting the date for Indianapolis. UNC faces five potentially top-level charges, including lack of institutional control, in a case that grew as an offshoot of a 2010 inquiry into the football program.
"The panel will not discuss the underlying facts or allegations for the purpose of finding facts, concluding whether violations occurred or prescribing penalties," the letter states, noting the NCAA used a similar step in a 2006 case involving Ohio State.
The NCAA's letter, dated Monday, also names the seven members of the infractions committee panel tabbed to handle the UNC case. It includes Southeastern Conference Commissioner Greg Sankey as the chief hearing officer and former U.S. Attorney General Alberto Gonzales from President George W. Bush's cabinet.
Stu Brown, an Atlanta-based attorney who has worked with schools on compliance issues, said he expected the procedural hearing and ruling might add another 4-6 weeks to the process. The case would likely resume a typical course with another hearing on the merits of the charges, with the panel issuing a ruling weeks to months afterward.
Brown said UNC could potentially "pare down the record" of the case against it if successful in some of its claims.
"It's almost a no-lose opportunity for Carolina," Brown said. "If Carolina wins on this procedural stuff and gets some of those allegations or evidence excluded, that's a win for Carolina. If nothing gets excluded ... they're no worse off in terms of what they face in the Notice of Allegations."
Still, the timeline was already likely to carry this case into 2017, approaching seven years since NCAA investigators first arrived on campus in the original football case focused on improper benefits and academic misconduct.
The Oct. 28 hearing will come exactly five years after UNC's hearing in that case.
In its August response, UNC challenged the NCAA's jurisdiction to pursue charges in a case centered on problems in the formerly named African and Afro-American Studies (AFAM) department. It argued that its accreditation agency — which sanctioned the school with a year of probation that expired in June — was the proper authority to handle the matter.
The school's procedural arguments cited an expired four-year statute of limitations. It stated a March 2012 ruling that included sanctions against the football program should have precluded later charges since some of the academic issues were examined during that first probe starting in fall 2011.
Then there's the issue of an independent 2014 probe into the AFAM problems by former U.S. Justice Department official Kenneth Wainstein, most notably lecture classes that didn't meet and operated as independent study. Wainstein interviewed the two people most directly linked to the irregularities — former department chairman Julius Nyang'oro and retired office administrator Deborah Crowder — and estimated that about 3,100 students were affected between 1993 and 2011 with athletes across several sports representing about half the enrollments in the problem courses.
The NCAA enforcement staff cited Wainstein's report in its Notice of Allegations outlining charges in April. But UNC's response sought to block its usage because the inquiry was "not conducted in a manner consistent with NCAA investigation protocols" by lacking recordings of interviews, failing to notify witnesses of a right to counsel and failing to notify them that the purpose was to determine if there were NCAA violations.
None of the NCAA charges is tied solely to the existence of the problem AFAM courses. Rather, they are focused on failures in oversight. The NCAA charged Nyang'oro and Crowder with failing to cooperate with its investigation in 2014 and 2015. It also charged a former faculty member and women's basketball academic counselor with providing improper help on research papers and assignments.
___
Follow Aaron Beard on Twitter at http://www.twitter.com/aaronbeardap