Navy SEAL Found Not Guilty of Assaulting a Suspected Terrorist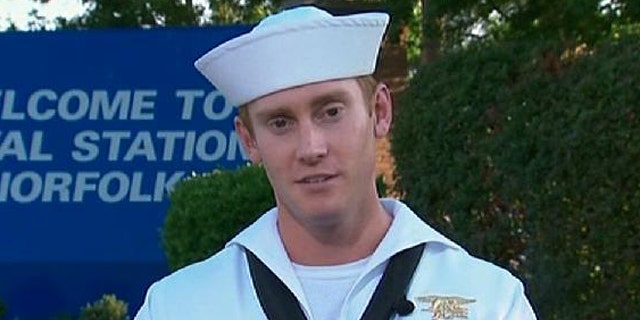 A Virginia military jury found a Navy SEAL not guilty Thursday on all charges he punched an Iraqi suspected in the 2004 killings of four U.S. contractors in Fallujah.
"I'm really happy right now," Matthew McCabe, the Navy SEAL, told Fox News shortly after hearing the outcome of the court martial. "It's an amazing feeling. I'm on cloud nine right now."
McCabe, a special operations petty officer second class, called the proceedings "troubling at times," adding "having your career on the line is not an easy thing to handle.
McCabe was the third and final Navy SEAL to be prosecuted in the case. He had faced charges of assault, making a false official statement and dereliction of performance of duty for willfully failing to safeguard a detainee. McCabe was accused of punching last year is Ahmed Hashim Abed, the suspected mastermind of the grisly killings six years ago.
After the court martial, the 24-year-old from Perrysburg, Ohio, thanked the public for its continued support.
"It's been great everything they've done," he told Fox News. "But, don't worry about it anymore. We are putting this all behind us. It's done and over with. I'm going to try not to think about this ever again."
This follows four days of pre-trial motions, jury selection and testimony before a judge advocate general, Capt. Moira Modelewski, at naval station in Norfolk, Va.
Another one of the Navy SEALs charged, but acquitted in connection with the Abed case, Petty Officer First Class Julio Huertas, took the stand for the defense Thursday morning.
He said that he and the other two Navy SEALs, McCabe and Jonathan Keefe, did visit the detention facility where Abed was being held on the night of the alleged incident.
But, he insists, there was no assault. Huertas and Keefe were found not guilty last month in separate trials in Baghdad.
The defense called an oral surgeon Thursday who testified by phone from Baghdad. He said Abed might have bitten an ulcer on his lip, causing it to bleed. Defense attorneys hope this validates their position that no assault occurred and that Al Qaeda detainees are trained to injure themselves then claim abuse.
Earlier, after the prosecution and defense both rested their cases, prosecutors Thursday announced they needed time to present a rebuttal. They were basically trying to rehabilitate their key witness, Petty Officer 3rd Class Kevin Demartino, who claims he saw McCabe punch the prisoner in the stomach. Demartino's character and credibility had been questioned by a string of defense witnesses Wednesday, many of them Navy SEALs. A rebuttal witness Thursday morning, Demartino's former superior officer, called Demartino "one of my top sailors—I can depend on him for anything."
Defense witnesses on Wednesday had painted a picture of Demartino as unstable, unreliable and, after the incident with Abed, "distraught." According to testimony, Demartino was worried his career would be ruined because a prisoner claimed abuse on his watch, and that he would no longer have a chance for his dream job with the California Highway Patrol. This, the defense claims, gives Demartino a motive to lie.
Demartino did not immediately report the alleged assault to his superiors and admits to dereliction of duty. The defense suggested that since Demartino initially said nothing, then later described seeing McCabe punch Abed, he's an unreliable witness.
The defense also continued throughout the court martial to cast doubt on the English translation of Abed's audio-taped testimony, claiming it's unreliable, which creates an element of doubt. As in civilian courts, a defendant—in this case McCabe--must be found not guilty if there's a reasonable doubt in the minds of the jurors.
Thursday afternoon, prosecutors suffered an apparent setback when a witness they called supported the defense position on disputed statements submitted in writing by two Navy SEALs in Iraq shortly after the alleged assault. The prosecution claimed the two SEALs, Jonathan Keefe and Matthew McCabe, colluded to get their stories straight, because their statements appeared to be identical. But the witness whose testimony backfired for the prosecution acknowledged the statements of two SEALs on the same mission often coincide.
Abed was captured in a surprise raid by the Navy SEALs in Fallujah, Iraq, in September of last year. The murders he's accused of masterminding were a turning point in the Iraq war, galvanizing the U.S. military to launch a major offensive against the insurgents in Fallujah. The bodies of the four Americans were burning and dragged through the streets, and two of them were hanged from a bridge over the Euphrates River.
Fox News' Steve Centanni and The Associated Press contributed to this report.