Naval Academy to kick out midshipman convicted of child sex crime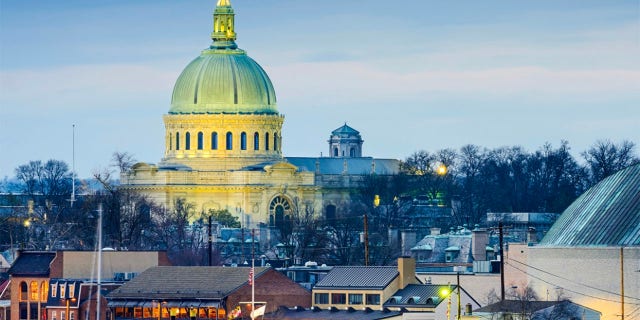 A midshipman who was sentenced to 12 to 24 years in prison for child sex abuse will be kicked out of the Naval Academy.
Midshipman 2nd Class Leonard Kiptoo Langat pleaded guilty in North Carolina earlier this year to indecent liberties with a minor – a felony – in connection to an incident with a family member late last year.
The Naval Academy in Annapolis confirmed Friday that it was going through the administrative process to dismiss Langat. He will be the sixth midshipman removed from the academy in the last year.
Langat was away from the academy on holiday break in Concord, N.C., when he entered the room of a female minor related to him on Dec. 30, 2017 and engaged in unwanted sexual activity, according to the Capital Gazette.
PENTAGON ORDERED BY SENATE TO INVESTIGATE CHILD-ON-CHILD SEXUAL ABUSE ON US BASES
Police said another woman related to the victim "caught" Langat in the child's room. The child was taken to a center that provides services for abused children, where she reported him.
Langat left North Carolina after the incident and returned to the academy. Concord police put out a fugitive warrant for his arrest and the Annapolis Police Department arrested him on Jan. 9. He was held without bond.
The midshipman was extradited to North Carolina, where he was charged with a first-degree forcible sexual offense and statutory rape with a person less than 15 years old, The Capital reported.
KASICH SLAMS TRUMP ADMINISTRATION OVER REPORT THAT US ARMY IS DISCHARGING LEGAL IMMIGRANTS
Cmdr. David McKinney, academy spokesman, told the newspaper that the Naval Academy coordinated with Annapolis police to arrange Langat's arrest after he returned to school. He said the academy enforces mandatory sexual harassment and assault training.
"You don't come here and not get training or exposed to the fact that sexual harassment/assault is not tolerated," McKinney said. "No one can come here and say they didn't know that."
It's unclear if Langat has a lawyer.