Naval Academy grad becomes first in nearly a century to make MLB debut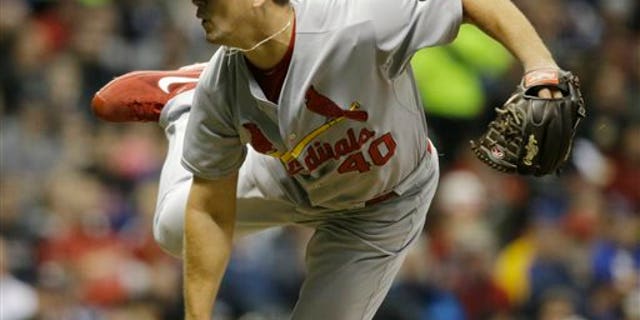 It was anchors aweigh Saturday for a St. Louis Cardinals pitcher who became the first U.S. Naval Academy grad to appear in a major league game in nearly a century.
Mitch Harris, 29, had to wait seven years to make his major league debut. He pitched a pair of scoreless innings and struck out three batters. Only a few years ago the only baseball Harris could play was catch -- with a cook on a flight deck. He tweeted about the significance after the game.
"Thx for all the support the past week," he wrote. "Couldn't be more proud to be a @Cardinals. @US Navy to @MLB is a dream come true! #NavytoMLB."
Before Harris, the only Naval Academy graduate to play in the Show was Nemo Gaines, who made four relief appearances in 1921 with the Washington Senators.
Harris had to put his post-graduation professional baseball career on hold to honor his five-year commitment to Navy. He was stationed in Norfolk, Va., during that time and went on three deployments, including time in the Persian Gulf, Russia and on a drug operation in South America.
The officer and a gentleman had the rank of lieutenant junior grade and is still in the reserves.
"It's a great story for our country and for our soldiers," St. Louis manager Mike Matheny said. "For a guy who's made that kind of sacrifice, and then (to) be able to make that kind of jump into our world, it's just so rare."
St. Louis picked Harris in the 13th round of the 2008 amateur draft. Five years later, he threw his first pitch in the minors.
He got called up to the majors last Tuesday. He earned the shot after recording two saves and a 2.45 ERA for the Cards Triple-A team in Memphis.
Hometown fans greeted Harris warmly when he was summoned in the fifth inning after starting pitcher Adam Wainwright left the game with an injury.
"I just thought 'this is it. My time has finally come,'" he told KMOV-TV. "It was bittersweet because of what happened to (Wainwright), but I was happy to get into a game."
He whiffed the first batter he faced, Twins slugger Adam Lind. He was given the ball he used to strikeout Lind for a memento.
FoxSports said after the Cards won 5-3, Harris was on track for his first major league win until the official scorer gave it to Matt Belisle, who struck out a pair of batters to end the sixth.
After the game, Harris shared the special moment with two former shipmates and his fianceé Mandy, and reflected on his long journey from Annapolis to the majors.
"There's a lot of people who helped me get where I'm at, who helped me through the struggles when I wasn't sure it was really going to happen," he told KMOV.
The Associated Press contributed to this report.