National Guard on standby for 'Unite the Right' rally in Virginia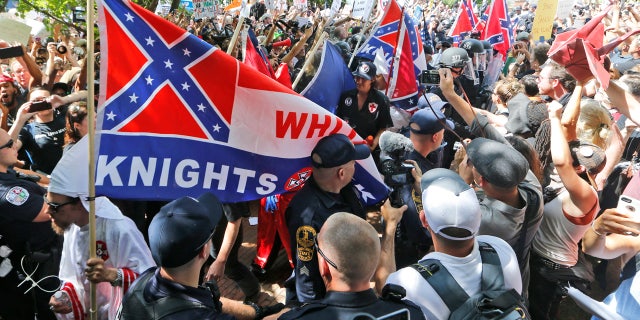 Hundreds of white nationalists – and those who oppose them -- were expected for a "Unite the Right" rally in Charlottesville, Virginia, on Saturday after a federal judge's ruling Friday cleared the way for the event.
The judge's ruling sparked a pre-rally march Friday night on the University of Virginia campus, resulting in clashes between marchers, protesters and police.
The unrest prompted Virginia Gov. Terry McAuliffe, a Democrat, to place National Guard members on standby, and encourage Virginians to stay away from Saturday's event.
"Men and women from state and local agencies will be in Charlottesville [on Saturday] to keep the public safe," McAuliffe said in a statement, "and their job will be made easier if Virginians, no matter how well-meaning, elect to stay away from the areas where this rally will take place."
On Friday night, marchers holding tiki torches and chanting "White lives matter!" in front of a statue of university founder Thomas Jefferson were confronted by protesters, the Washington Post reported.
After fights broke out, police dispersed the crowd, claiming it was an unlawful assembly, Richmond's WTRV-TV reported.
Saturday's event is scheduled for Emancipation Park after U.S. District Judge Glen Conrad issued a preliminary injunction in a lawsuit that right-wing blogger and rally organizer Jason Kessler filed against the city of Charlottesville.
Kessler wants to protest Charlottesville's decision to remove a statue of Confederate Gen. Robert E. Lee from Emancipation Park. He sued the city over free speech violations after the officials ordered the rally moved from Emancipation Park to a larger venue because of safety concerns.
In a statement, the city said it would honor the judge's decision. Kessler is being represented in his case by the Rutherford Institute and the American Civil Liberties Union of Virginia.
The Associated Press contributed to this report.