Morning brief: Obama offers urgent plea to Congress on health care
OBAMA WEIGHS IN ON HEALTH CARE DEBATE WITH CALL TO CONGRESS
Speaking at the John F. Kennedy President Library and Museum in Boston Sunday night, former President Obama urged Congress to show political courage in the debate over the new health care law, which was passed in the House last week. "I hope they understand that courage means not simply doing what is politically expedient, but doing what they believe deep in their hearts is right," Obama said. He was receiving the Profile In Courage Award from members of the Kennedy family.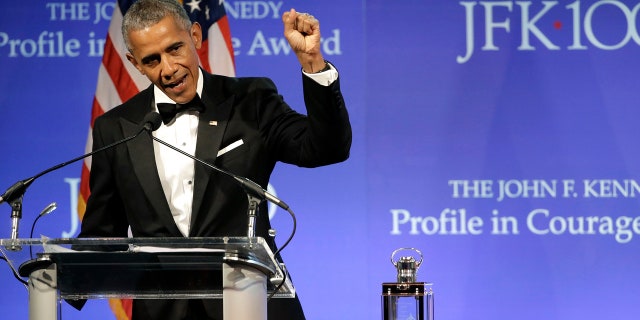 OBAMACARE SPIKE IS TRUMP'S FAULT, ACA ARCHITECT GRUBER SAYS
VIDEO: PRIEBUS ON WHAT LIES AHEAD FOR HOUSE HEALTH BILL
WHITE HOUSE, GOP SENATORS DIFFER ON NEXT STEPS TO REPLACE OBAMACARE
MACRON WINS FRENCH PRESIDENTIAL ELECTION
Centrist Emmanuel Macron routed far-right candidate Marine Le Pen Sunday to win the French presidential election. With all votes counted, the passionately pro-European Union Macron had garnered 66 percent of the vote to just 34 percent for Le Pen, who had promised a "Frexit" referendum should she win the election. The result amounted to an emphatic rejection of Le Pen's "French-first nationalism." The 48-year-old had hoped the same populist wave that led Donald Trump to the White House would also carry her to the Elysee Palace.
FARAGE: MARINE LE PEN WILL BE FRENCH PRESIDENT IN 2022
BELLWETHER: MACRON WINS (FRANCE TAKES THE EASY WAY OUT)
TEXAS GOV. ABBOTT SIGNS BILL TARGETING SANCTUARY CITIES
Texas Gov. Greg Abbott signed a bill Sunday prohibiting the state's cities and counties from enacting so-called "sanctuary" laws that prevent local law enforcement officers from inquiring about the immigration status of anyone they detain. He said Texas residents expect lawmakers to "keep us safe" and said similar laws have already been tested in federal court, where opponents have already been hinting the bill will be immediately challenged.
SANCTUARY CITIES BILL PUTS TEXAS COUNTIES IN TIGHT SPOT
VIDEO: GOV. ABBOTT GIVES NO SANCTUARY TO DERELICT OFFICERS
PENN STATE FRAT MEMBER: PLEAS TO CALL 911 FOR UNCONSCIOUS PLEDGE WENT UNHEARD
Kordel Davis, a brother of Penn State's Beta Theta Pi chapter, told "Good Morning America" Sunday that he repeatedly told other frat members to call 911 when he found Timothy Piazza unconscious on a couch, but no one did. "I was told it was going to be handled their way," he said. "I was told that they had the situation under control and that my help was not needed and that my opinions were not relevant and not needed. I was told it was all a myth, I was overreacting and I was crazy. They thought calling for help was just unnecessary."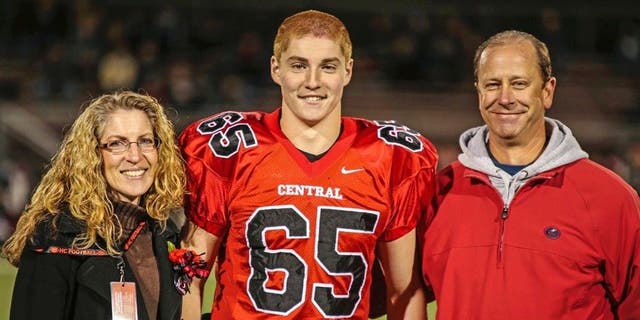 18 PENN STATE FRAT MEMBERS, FRATERNITY CHARGED IN STUDENT'S HAZING DEATH
POLICE REPORTEDLY DESCRIBE HORRIFIC SCENE WHERE BOSTON DOCTORS WERE FOUND DEAD
GINGRICH: OUR NATIONAL SECURITY SYSTEM NEEDDS REAL INNOVATION. HERE'S A BLUEPRINT.
The American defense establishment is too expensive, slow, hierarchical, and concerned about the possibility of failure. Real innovation requires tolerance for failure – and a willingness to have smart subordinates be insubordinate in the pursuit of real breakthroughs.
GINGRICH: COMEDIANS ARE SO ANGRY AT TRUMP, 'THEY CAN'T BE FUNNY'
COMING UP ON FNC
1:30 p.m. ET: Press Secretary Sean Spicer holds a briefing.
1:30 p.m. ET: FBI Director James Comey speaks at the Anti-Defamation League's Leadership Summit. Watch live on FoxNews.com.
2:30 p.m. ET: The Senate Judiciary Subcommittee on Crime and Terrorism holds hearing. Former Acting Attorney General Sally Yates and former Director of National Intelligence James Clapper are expected to testify. Watch Fox News Channel for more.
7:00 p.m. ET: Katie Walsh, the president's former deputy chief of staff, talks to Martha MacCallum in an exclusive interview on "The Story."
8:00 p.m. ET: David Garrow, the author of new Obama biography, sits down with "Tucker Carlson Tonight."
10:00 p.m. ET: Condoleezza Rice shares her thoughts about North Korea and the Trump administration on "Hannity."
FOX BUSINESS COVERAGE
BERKSHIRE HATHAWAY SPECIAL
As she does every year after the Berkshire Hathaway Annual meeting, Liz Claman spends an hour with the men behind Berkshire. Warren Buffett and Charlie Munger along with Bill Gates. Ahead of the special broadcast, Claman reports on the weekend's meeting and how investors reacted. (Watch highlights from the annual Berkshire Hathaway shareholders' meeting here.)