Montana fire chief, family of five killed in fiery collision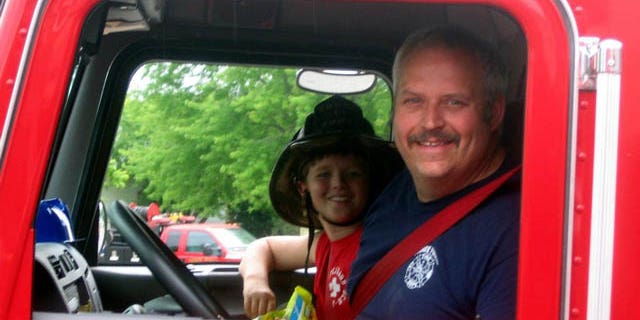 NEWYou can now listen to Fox News articles!
THREE FORKS, Mont. – A fire engine and a pickup truck collided on a Montana highway Thursday, causing an explosion and fire that killed a family of five and a volunteer fire chief, authorities said. There were no survivors.
The fire engine driven by Three Forks Volunteer Fire Department Chief Todd Rummel was heading east on U.S. Highway 12 when it collided with the westbound pickup about 10 miles east of Helena, forcing both vehicles into a ditch in a fiery blaze, authorities said.
Killed in the pickup were a Helena couple and their three young children, Montana Highway Patrol Capt. Gary Becker said. Their names and ages were not immediately released.
The crash devastated Rummel's colleagues and the community of Three Forks, a town of about 2,000 people at the headwaters of the Missouri River.
Rummel, 44, was driving the fire engine alone to Three Forks from Helena, where its water pump had been repaired.
Jason Shrauger, fire chief in nearby Bozeman, said he knew Rummel through regular contact over the past several years during training and planning sessions for Gallatin County firefighters.
"He was a go-getter. He loved the fire service and every waking moment was thinking about how he could improve the department he was a member of," Shrauger said.
The Jefferson County Sheriff's Office sent the deceased to the state crime lab for identification and to determine the cause of death, Becker said.
It will take some time to reconstruct what happened, he said.
"We're going to take all the evidence and digest it all and see what we can come up with," he said. "We can't say anything until we make a positive determination of what happened."
Firefighters learned of the crash overnight. They gathered at the firehouse Friday to talk through their shock and to welcome residents who stopped by to share a few words about Rummel, who was just promoted to chief about a month ago.
"He didn't really get a chance to meet his full potential as chief," firefighter Dave Whitesitt said. "We're trying to stick together as a team. We're going to work through this."
At 14, Todd Rummel joined a junior fire company at his father's firehouse in Haycock Township, Pennsylvania, helping to clean hoses and odd jobs around the firehouse, father Allen Rummel said.
"When he was a baby, I used to take him down to the firehouse and one of the old timers used to sit around and babysit him while I went" on fire calls, Allen Rummel said.
At 18, he began fighting fires. He worked as an auto mechanic while serving as volunteer fire chief in Milford Township, Pennsylvania, said Jim Young, a firefighter there.
"That was his life. He was very dedicated," Young said. "But talking to him years ago, his dream was to move out there" to Montana.
Rummel made the move in 2006, ending up in Three Forks, the site where the Jefferson, Madison and Gallatin rivers meet to form the Missouri. It was a stopping point in 1806 for the expedition led by Meriwether Lewis and William Clark.
Rummel joined the fire department and built a house for himself just outside town. He was battalion chief until May, when the firefighters unanimously selected him to replace the retiring chief.
"This fire department was more than a business. It was a family. Todd was like a brother. To some folks in the fire department, he was like a father," said firefighter Brad Eastty.
Wreckage from the collision was towed away and all that remained was charred earth, spray paint markings and 18 small flags where investigators noted debris. Somebody placed a small flower memorial on the blackened dirt in the afternoon.
A memorial service for Rummel was set for June 25 at Three Forks High School.