Money being raised to restore vandalized Jewish cemetery in Philadelphia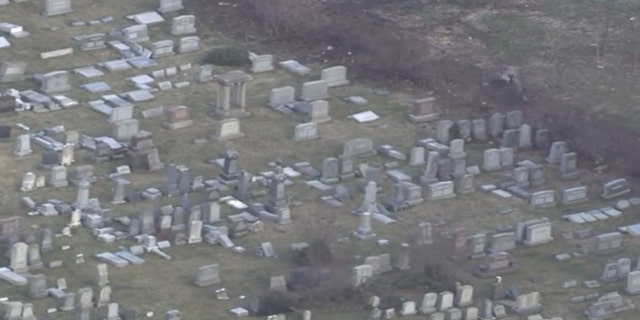 PHILADELPHIA – Money is being raised to repair and restore more than 100 headstones that were vandalized at a Jewish cemetery in Philadelphia while police hunt for the person who toppled them.
A man visiting Mount Carmel Cemetery on Sunday called police to report that three of his relatives' headstones had been knocked over and damaged. The discovery came less than a week after similar vandalism in Missouri.
Aaron Mallin told WPVI-TV that he discovered the damage when he came to visit his father's grave. He called it "very disheartening" and said he hopes it wasn't intended as an anti-Semitic attack.
Police said approximately 100 additional headstones were knocked over, apparently sometime after dark Saturday. Police were conducting a criminal mischief-institutional vandalism investigation.
"I'm hoping it was maybe just some drunk kids," Mallin said. "But the fact that there's so many, it leads one to think it could have been targeted."
Philadelphia Mayor Jim Kenney said authorities were doing everything possible to find those "who desecrated this final resting place."
"My heart breaks for the families who found their loved ones' headstones toppled," he said in a statement. "Hate is not permissible in Philadelphia."
The damage comes less than a week after a Jewish cemetery in suburban St. Louis reported more than 150 headstones vandalized, many of them tipped over.
Police said the Anti-Defamation League, with support from the Mizel Family Foundation, is offering a $10,000 reward for information leading to the arrest and conviction of those responsible. A local Fraternal Order of Police lodge also is offering a reward of $3,000.