Dozens of headstones toppled at Philadelphia Jewish cemetery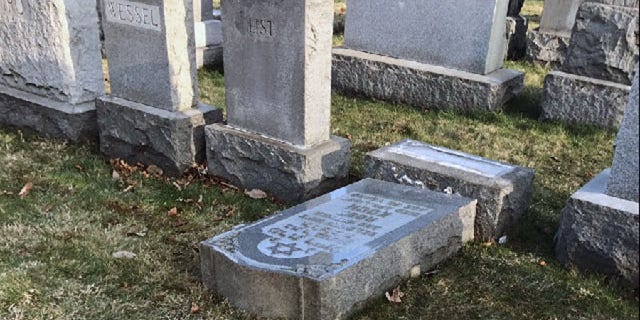 More than 100 headstones have been damaged at a Jewish cemetery in Philadelphia, authorities said Sunday.
WPVI reported that Aaron Mallin discovered the damage Sunday morning when he arrived at Mount Carmel Cemetery to visit his father's grave. Police said that they received a call from a man that three of his relatives' headstones had been knocked over and damaged.
"The cemetery was inspected and approximately 100 additional headstones were found to be knocked over," apparently sometime after dark Saturday, a police spokeswoman said in a statement. A criminal mischief-institutional vandalism investigation will be conducted by the police Northeast Detectives Division, she said.
"I'm hoping it was maybe just some drunk kids. But the fact that there's so many, it leads one to think it could have been targeted," Mallin told the station. "It's just very heartbreaking."
Stacy Silver told Philly.com that the tombstones of her mother and great-grandmother had been toppled to the ground.
"Your stomach just drops," Silver said. "I mean it's just horrible."
Police did not say whether they had any suspects in the case or whether they knew of a motive.
"It's criminal. This is beyond vandalism," Capt. Shawn Thrush told Philly.com. "It's beyond belief."
Philadelphia Mayor Jim Kenney said authorities were doing everything possible to find those "who desecrated this final resting place."

"My heart breaks for the families who found their loved ones' headstones toppled," he said in a statement. "Hate is not permissible in Philadelphia."
The Jewish Federation of Greater Philadelphia lists Mount Carmel as a Jewish cemetery in northeastern Philadelphia. Philly.com reported that the cemetery contains tombstones dating back to at least the mid-1800s.
The damage comes less than a week after a Jewish cemetery in suburban St. Louis reported more than 150 headstones vandalized, many of them tipped over.
Israeli foreign ministry spokesman Emmanuel Nahshon called the damage reported in Philadelphia "shocking and a source of worry."
The Jewish Federation of Greater Philadelphia said late Sunday that it would open an online mailbox to begin raising money for repairs.
Police said Sunday evening that the Anti-Defamation League, due to support from the Mizel Family Foundation, is offering a $10,000 reward for information leading to the arrest and conviction of those responsible. A local Fraternal Order of Police lodge also is offering a reward of $3,000.

The Associated Press contributed to this report.
Click for more from Fox29.com.