MoMA Acquires Controversial Ants-on-Jesus Video Art That Was Pulled from Smithsonian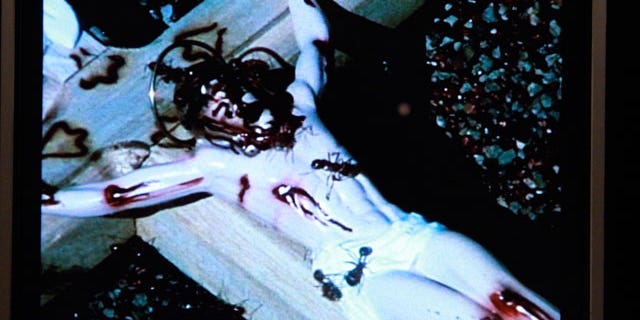 The Museum of Modern Art announced the purchase of the controversial video exhibit featuring an image of Jesus on a crucifix covered in ants that was pulled from the Smithsonian Institute's National Portrait Gallery last month.
The New York museum announced their acquisition of David Wojnarowicz's original 13-minute version of "A Fire in My Belly," and a 7-minute excerpt, MoMA Director Glenn Lowry said on Thursday.
The work was included in an exhibit at the Smithsonian Institution's National Portrait Gallery, sparking an outcry from some conservative members of Congress and organizations including the Catholic League, which culminated in its removal from the gallery.
That controversy and the eventual decision to pull the work from the Smithsonian were what sparked MoMA's interest in acquisition, MoMA told FoxNews.com on Thursday in an e-mailed statement.
"The current debate surrounding the removal of the piece from the National Portrait Gallery exhibition brought the work to our attention and provided us with an opportunity to look more closely at it and to deepen our engagement with this artist by adding it to our holdings of his work," MoMA said.
In a press release, MoMA also noted that Wojnarowicz was one of the most influential artists to emerge from New York in the 1980s, making "A Fire in My Belly" in the middle of the decade after he was diagnosed with HIV.
The work is described as a "collage of images filmed primarily during the artist's travels to Mexico, it combines footage from a number of sources that refer—often in graphic detail—to death, social inequality, faith, and desire." It is now housed in MoMA's Contemporary Galleries with other works made during the AIDS crisis in the late 1980s and early 1990s.
Much of the outrage surrounding the video installation's inclusion in the Smithsonian's provocative exhibit, "Hide/Seek: Difference and Desire in American Portraiture," stemmed from the institution's reliance on taxpayer funds.
But the New York museum now in possession of the controversial video installation is, by contrast, a private institution, although New York City gave the museum a $65 million capital grant for renovations completed in 2004.
MoMA said it doesn't disclose the prices paid for works purchased for the collection and ensured FoxNews.com the source of funding for the acquisition of Wojnarowicz's works was private funds.
The video is now on view in the museum's Contemporary Art from the Collection exhibition, which, according to MoMA's website, is sponsored by BNY Mellon, a financial services company.