Mom of terminally ill son shamed for parking in handicapped spot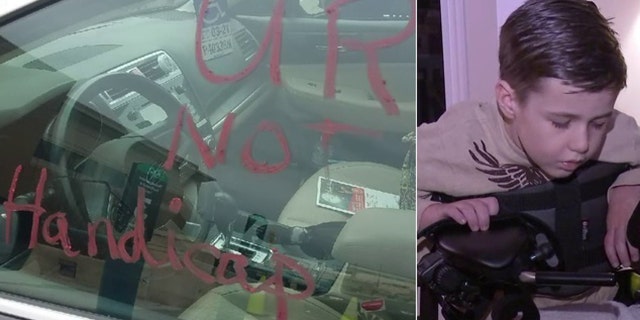 NEWYou can now listen to Fox News articles!
A Pennsylvania mother and her terminally ill son's trip to see Santa Claus turned less than merry after they found a nasty note written on their car window.
The Gilbertsville family was parked in a disabled spot outside the King of Prussia Mall, when mom Nancy Coyne was shocked to find a message scribbled in red lipstick that read, "UR Not Handicap."
"I can't believe someone could be so obnoxious and ignorant and rude about a situation that I struggle with daily," Coyne told Fox 29 Philadelphia.
Her son, seven-year-old Garrett Coyne, suffers from a rare neurological condition called Batten disease, which has caused him to lose his motor skills and go blind. The disease normally ends in childhood death.
"There is no cure. There is no treatment," Nancy told Fox 29. "Trying to make memories for my family then this happened."
According to Fox 29, the family's car had a legal parking placard for a disabled spot and the King of Prussia Mall is helping police with the investigation.
"I just want the person to realize what they did was wrong and to learn from it and not do it again," Dad John Coyne said.