Mollie Tibbetts' suspected killer reportedly used alias 'John Budd' at work
An illegal immigrant from Mexico accused of murdering 20-year-old Iowa college student Mollie Tibbetts over the summer reportedly went by a different name during his time working at a dairy farm.
Cristhian Bahena Rivera, 24, was known as John Budd while he was employed at Yarrabee Farms, according to The Associated Press.
Three individuals with information pertaining to the suspect's employment confirmed the name used to hire and pay him during his time at the farm. They spoke on condition of anonymity because they were not authorized to release the information during an ongoing criminal investigation.
Official government documents also showed the John Budd alias, one source told the outlet.
MOLLIE TIBBETTS MURDER SUSPECT ID'D AS CRISTHIAN RIVERA, 24, LIVING IN US ILLEGALLY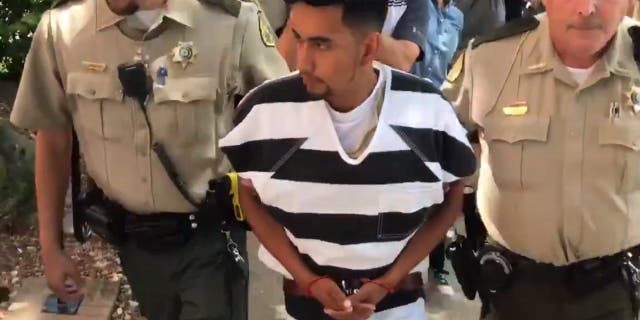 News of the reported pseudonym comes weeks after Tibbetts' body was found in an Iowa cornfield and Rivera was charged in her murder. She had been missing since July 18.
Amid the Aug. 21st discovery, authorities said Rivera, who lived in the rural Poweshiek County area, was being held on a federal immigration detainer. He's believed to have been in the area for four to seven years.
Yarrabee Farms, which previously said Rivera was employed there for the past four years, would not confirm to The Associated Press whether or not he went by John Budd at work.
Upon his hiring at the farm in 2014, Rivera showed an out-of-state photo I.D. and social security number, farm officials have said, adding that up until his apprehension, they thought the documents were his.
FARM THAT HIRED CRISTHIAN RIVERA, MOLLIE TIBBETTS' SUSPECTED KILLER, DID NOT USE E-VERIFY SYSTEM, OFFICIAL SAYS
"We learned that our employee was not who he said he is," Yarrabee Farms co-owner and manager Dane Lang said on Aug. 22.
The farm followed legal requirements to examine the documents and determined "that they appeared genuine on their face and related to the person presenting them," Lori Chesser, an immigration employment lawyer advising the farm, told The Associated Press. "Questioning a name or other characteristic would violate the anti-discrimination provisions of the law."
Over the course of his employment, the suspect also "was called and responded to the name he used in the hiring process," Chesser said.
The farm did not use a federal E-Verify check on Rivera, Lang previously said, clarifying an earlier comment that they had. The E-Verify system allows companies to confirm the identity and eligibility of employees to work in the U.S.
Fox News' Nicole Darrah, Lucia I. Suarez Sang and The Associated Press contributed to this report.