Missouri firefighter takes care of hummingbird that was discovered unresponsive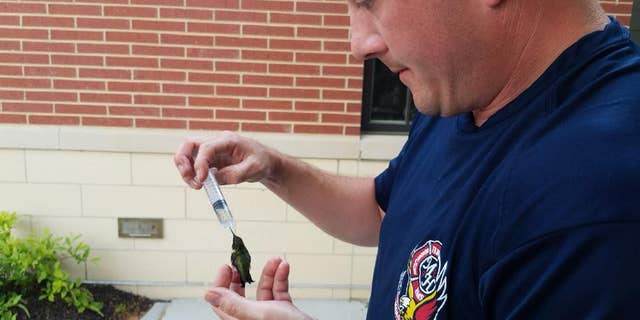 Did the bird "tweet" its gratitude before flying away?
The Maryland Heights Fire Protection District in Missouri shared photos this week of a hummingbird on its Facebook page.
A firefighter paramedic, the district revealed in the Tuesday post, had taken care of the winged creature.
"Firefighter Paramedic Schurwan nursed this ruby throated hummingbird back to health after finding it unresponsive on the engine bay floor," it explained in the post, which received hundreds of likes.
LOUISIANA FIREFIGHTERS PERFORM 'KITTEN EXTRICATION' IN VIDEO
The post, which received hundreds of likes, added that "Dave used a syringe filled with sugar water to coax the bird to drink until it became more alert and flew out of his palm."
Captain Robert Daus, a public information officer, told Fox News in a message that Schurwan "treated the hummingbird for approximately 10 min."
"When he first arrived at the lifeless bird it was too weak to lift its head up," he explained. "Before feeding the bird with a syringe he first put his finger in sugar water and rubbed its beak till it perked up enough to drink from the syringe. He continued to feed the hummingbird till it took to flight from his hand."