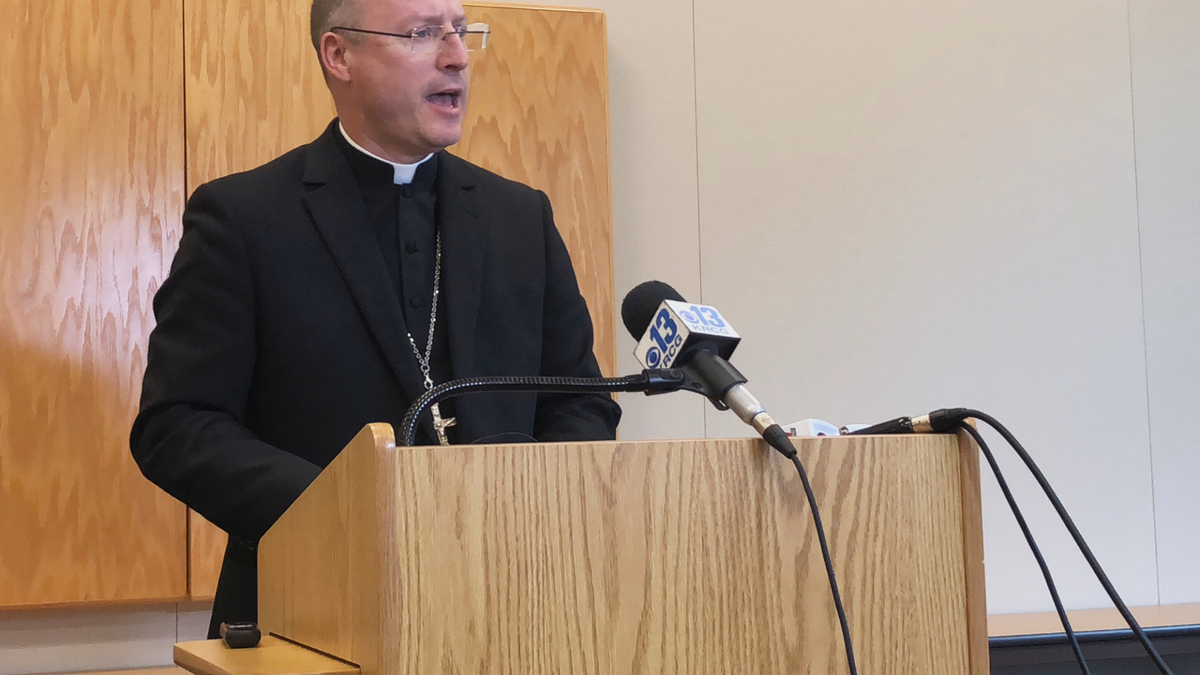 JEFFERSON CITY, Mo. – Thirty-three priests or religious brothers in the Roman Catholic Diocese of Jefferson City, Missouri, have been "credibly accused" and/or removed from the ministry over sexual abuse of minors, the bishop of the central Missouri diocese said Thursday.
Bishop W. Shawn McKnight released a complete list of the names that followed an internal investigation begun in February. The list includes 25 priests from the diocese, three priests from other areas who previously served in the Jefferson City diocese, and five members of a religious order.
Fourteen of the 33 men named are dead. Many of them are elderly. The diocese said the most recent case of physical sexual abuse found in the investigation occurred in 1997. He said only one man on the list was criminally convicted.
"Although the incidents are in the past, the pain caused is still a present reality for the survivors of abuse and their loved ones," McKnight said in a statement. He apologized for the actions of the priests and brothers, "and the incomplete transparency we have lived under by not making all their names public."
McKnight said another 18 allegations have been made since August, and internal investigations into some of those claims are ongoing. He encouraged any additional victims to come forward.
McKnight said the diocese has spent $2.3 million on survivors of abuse since July 2003 and $2.1 million on the care of "credibly accused diocesan priests."
David Clohessy, St. Louis director of the Survivors Network of those Abused by Priests, or SNAP, called the list "irresponsibly and painfully short on details."
McKnight "should reveal where each of these men worked, when they were accused, when those allegations were deemed credible, why the years of secrecy, and where the men are now," Clohessy said in a statement.
McKnight told reporters that he was not "trying to hide something" by declining to say where the men had served. He said many of them had served in a variety of places. He said it would be misleading to report only where allegations were made and also said some victims asked him not to reveal that kind of information.
The internal investigation is unrelated to an investigation announced in August by Missouri Attorney General Josh Hawley, in which the Diocese of Kansas City-St. Joseph, the Diocese of Jefferson City, the Diocese of Springfield-Cape Girardeau and the Archdiocese of St. Louis all agreed to open their records.
Hawley's announcement came amid renewed concern about sexual abuse by priests that followed the release of a scathing report in Pennsylvania citing abuse of more than 1,000 children by hundreds of priests since the 1940s, along with cover-up by church leaders.
Mary Compton, a spokeswoman for Hawley, said that investigation is "active and ongoing," but offered no timetable for when it will be completed.
"We are working as quickly as possible to carefully and thoroughly review all evidence obtained by our office," Compton said in a statement. "The Pennsylvania Grand Jury completed its work in two years. Our Office believes Missourians deserve answers as soon as feasible."
Hawley on Tuesday defeated incumbent Democrat Claire McCaskill in the race for U.S. Senate. Gov. Mike Parson will name a replacement.
Jack Smith, spokesman for the Catholic Diocese of Kansas City-St. Joseph, said the diocese also plans to release a list of names but will wait until the Attorney General's investigation is complete.
___
AP reporters Margaret Stafford in Kansas City, Missouri, and Jim Salter in St. Louis contributed to this report.