Military dad surprises young son at school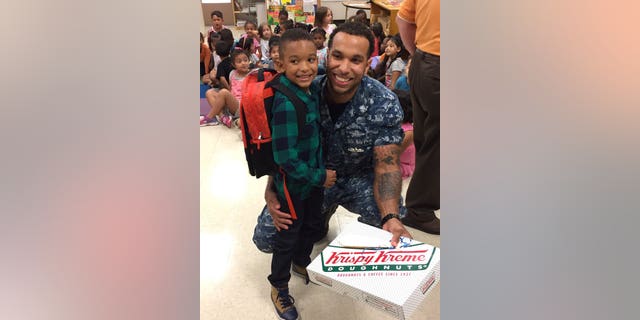 A Maryland elementary school student got quite the surprise when his class's guest reader on Thursday turned out to be his father – who had spent the past eight months deployed with the Navy.
Matthew Foreman, a Navy corpsman who had been to the Middle East and Africa while he was deployed, surprised his 5-year-old son this week when he showed up at Rosemont Elementary School in Gaithersburg, Md., WTTG-TV reported.
During the class's reading time, a guest speaker was announced and Foreman walked in.
"Daddy!" Cameron, 5, exclaimed before running into his father's arms.
"My heart is racing, just super, super excited," Foreman said as he held his young son. "No better feeling."
MILITARY DAD MAKES DAUGHTER A CAMOUFLAGE PROM DRESS
Foreman's wife, Lauren, and Cameron had moved to nearby Rockville, Md., and Cameron had started kindergarten while he was deployed, according to WUSA-TV.
Foreman joked that he owed his wife $5 because she had successfully bet him that he would cry.