Michigan Militia Group Preparing for Antichrist, Web Site Says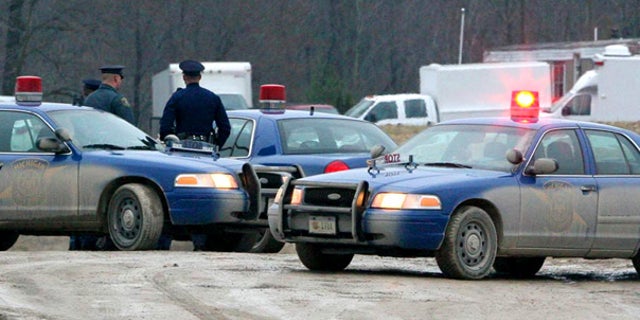 The Michigan-based militia group charged with conspiring to kill police officers is preparing for battle with the Antichrist, according to a Web site purportedly run by the group.
"Jesus wanted us to be ready to defend ourselves using the sword and stay alive using equipment," Hutaree.com reads. "The only thing on earth to save the testimony and those who follow it, are the members of the testimony, til the return of Christ in the clouds. We, the Hutaree, are prepared to defend all those who belong to Christ and save those who aren't. We will still spread the word, and fight to keep it, up to the time of the great coming."
Nine suspects associated with Hutaree, which is purportedly a Christian-based militia group, have been charged with conspiring to kill police officers and then attack a funeral in hopes of killing more law enforcement officials, federal prosecutors said Monday. U.S. Attorney Barbara McQuade said agents moved on the group because the militia members were planning an attack sometime in April.
Members of the militia, including its leader, David Brian Stone, also known as "Captain Hutaree," are charged in the case and allegedly met regularly since at least 2008 to conduct military-style training in Michigan's Lenawee County and elsewhere. An indictment alleges that members of the group conspired to "levy war against the United States, (and) to oppose by force the authority of the government of the United States."
Eight suspects have been arrested by the FBI and one more is being sought. Of the eight captured, seven were arraigned Monday in Detroit and ordered held pending a bond hearing Wednesday.
Stone's ex-wife, Donna Stone, told The Associated Press before the arraignments that her former husband was to blame for pulling her son into the Hutaree movement. She said David Brian Stone legally adopted her son, David Brian Stone Jr., who is among those indicted. She said the marriage lasted about 10 years.
"It started out as a Christian thing," said Donna Stone, 44. "You go to church. You pray. You take care of your family. I think David started to take it a little too far. He dragged a lot of people with him."
Another son of David Brian Stone, Joshua Matthew Stone, also was indicted and is a fugitive, said Detroit FBI spokeswoman Sandra Berchtold.
According to an indictment unsealed Monday, nine members of the militia had planned to kill a member of law enforcement and then plant an improvised explosive device to attack the subsequent funeral procession. Other possible acts included killing a law enforcement official and his or her family at home or luring a member of law enforcement with a false 911 emergency call and then killing him or her.
"These acts would intimidate and demoralize law enforcement diminishing their ranks and rendering them ineffective," the indictment reads.
Once such an attack was launched, the indictment alleges that Hutaree members would then retreat to one of several "rally points" to detonate trip-wired improvised explosive devices.
"It is believed by the Hutaree that this engagement would then serve as a catalyst for a more wide-spread uprising against the Government," the indictment continued.
Several conspirators allegedly attempted to travel to Kentucky in early February to attend a summit of militia groups convened by Stone, the alleged leader of the organization.
"The purpose of the summit of militia groups was to facilitate better communications, cooperation, and coordination between the various militias," the indictment read.
Although weather ultimately prevented the conspirators from reaching their destination, Stone allegedly identified law enforcement officers in a "specific community" near his residence and one officer as potential targets, according to the indictment.
Weeks later, the suspects gathered in Michigan's Lenawee County to engage in training for the planned covert reconnaissance exercise. Each suspect in attendance carried and used at least one firearm, the indictment continues.
Andrew Arena, head of the FBI's field office in Detroit, said the case is an example of "radical and extremist fringe groups" found throughout society.
The "Doctrine of the Hutaree," which is based on faith, according to the group's Web site, states that Christians should "stand firm in Christ and believe in him until our uttermost end. The testimony must by no means pass away and we must spread the word believing in Christ's words, even during the end times."
A two-minute video on the Web site depicts several camouflaged, armed men firing high-powered rifles as they move throughout open wilderness. At one point, three men can be seen firing weapons from behind a parked vehicle. Several other videos of the militia's training activities, including one that has been viewed more than 21,000 times, can be found on its YouTube channel.
Michael Lackomar, a spokesman for the Southeast Michigan Volunteer Militia, told the Associated Press that one of his team leaders got a frantic phone call Saturday evening from members of Hutaree, which the Web site says means "Christian soldier." The callers said their property in southeast Michigan was being raided by the Bureau of Alcohol, Tobacco, Firearms and Explosives, Lackomar said.
"They said they were under attack by the ATF and wanted a place to hide," Lackomar said. "My team leader said, 'No thanks.'"
A message sent to the militia group by FoxNews.com seeking comment was not immediately returned early Monday.
According to the militia's ranking system, members of the group can hold titles such as senior gunner, gold rifleman, "zulif" and "arkon."
"Respect the officer above you and obey your commander with dignity," the Web site reads. "Each man holds his place in flesh and spirit, heaven and earth."
The Web site also includes links to Hutaree forums, a photograph of a patch for the Colonial Christian Republic and a red banner promoting a training session for April 24.
"Preparing for the end time battles to keep the testimony of Jesus Christ alive," the Web site reads. " ... Being Hutaree is to stay the Testimony of Christ alive, and follow a motto, John 15:13, 'Greater love hath no man than this, that he lay down his life for his friends.'"
Hutaree was named in a list of 512 so-called active "patriot" groups in the U.S. last year by the Southern Poverty Law Center in its spring intelligence report on extremist organizations. Of those groups, 127 were militias, including Hutaree. The remaining groups, according to SPLC, engage in "groundless conspiracy theorizing" or advocate anti-government doctrines.
The Associated Press contributed to this report.