Michigan lottery winner charged with welfare fraud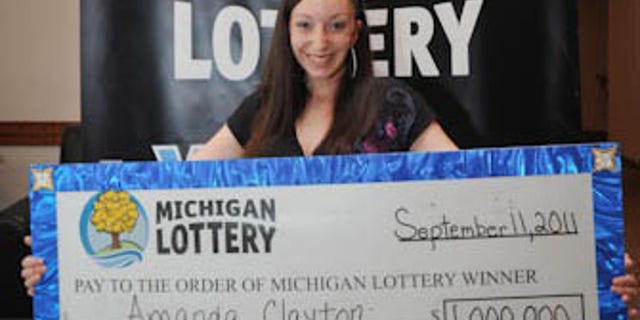 LINCOLN PARK, Mich. – A Michigan lottery winner was charged with fraud Tuesday for collecting food stamps and public health insurance despite pocketing a $735,000 jackpot.
Amanda Clayton, 25, was silent during a brief court hearing after spending a night in jail. A not-guilty plea was entered, and her lawyer vowed to fight the charges.
Clayton is the second person in Michigan caught with food stamps despite newly minted wealth. Gov. Rick Snyder last week signed a law requiring the lottery to notify the Human Services Department when someone wins at least $1,000.
Clayton is charged with failing to inform the state that her income had changed as a result of the lottery prize and a job. She won a $1 million jackpot on the game show "Make Me Rich!" and chose a $735,000 lump sum, before taxes, last September.
"It's simply common sense that million-dollar lottery winners forfeit their right to public assistance," said Attorney General Bill Schuette, whose office filed the charges. The maximum penalty is four years in prison.
Clayton, the mother of a 1-year-old, is accused of collecting $5,475 in food stamps and public medical benefits over eight months until Detroit TV station WDIV broke the story in March. She told WDIV that she believed she could collect food aid because she didn't have a job at the time.
The amount of money is a speck compared with the roughly $250 million that Michigan spends each month just on food assistance. Schuette spokeswoman Joy Yearout declined to comment on why the attorney general chose felony charges over a civil lawsuit or why Clayton was arrested and locked up overnight for a non-violent crime.
Outside the court in suburban Detroit, defense attorney Stanley Wise said he would ask that charges be dropped at the next hearing, May 1, when a judge must decide whether there's enough evidence to send the case to trial. He didn't elaborate on his strategy.
"They want to make an example of her," Wise later told The Associated Press, referring to state officials. "She's offered to repay the money. They haven't even sent her a bill. If that were the only issue, it would be over and done. They have chosen to exploit this for their purposes, and we have to deal with it."
Clayton declined to comment after posting $1,000 bail. Wise advised her not to speak to reporters.
Euline Clayton told reporters that her daughter used bad judgment but that a criminal case is "crap." She said Amanda called the Human Services Department about her lottery winnings but could never reach anyone.
The charges "are very extreme. ... They arrested her like a vulture," the elder Clayton said. "She didn't steal $1 million."
Clayton wasn't the first Michigan lottery winner to keep claiming public benefits. Leroy Fick, 60, of Bay County was using the food program despite winning an $850,000 lump sum prize in 2010. He told officials about his wealth but was allowed to temporarily keep his card because one-time windfalls at that time were not counted as regular income under the program.
The state has since banned anyone with assets of more than $5,000, excluding a car, from the food stamp program. That knocked Fick off the rolls.
Michigan Human Service Director Maura Corrigan said the new law requiring communications between the lottery and her agency "will make it easier to ensure that outrages involving instant millionaires on public assistance don't happen in the future."