Michigan district baffled by union clause giving hiring preference to non-Christians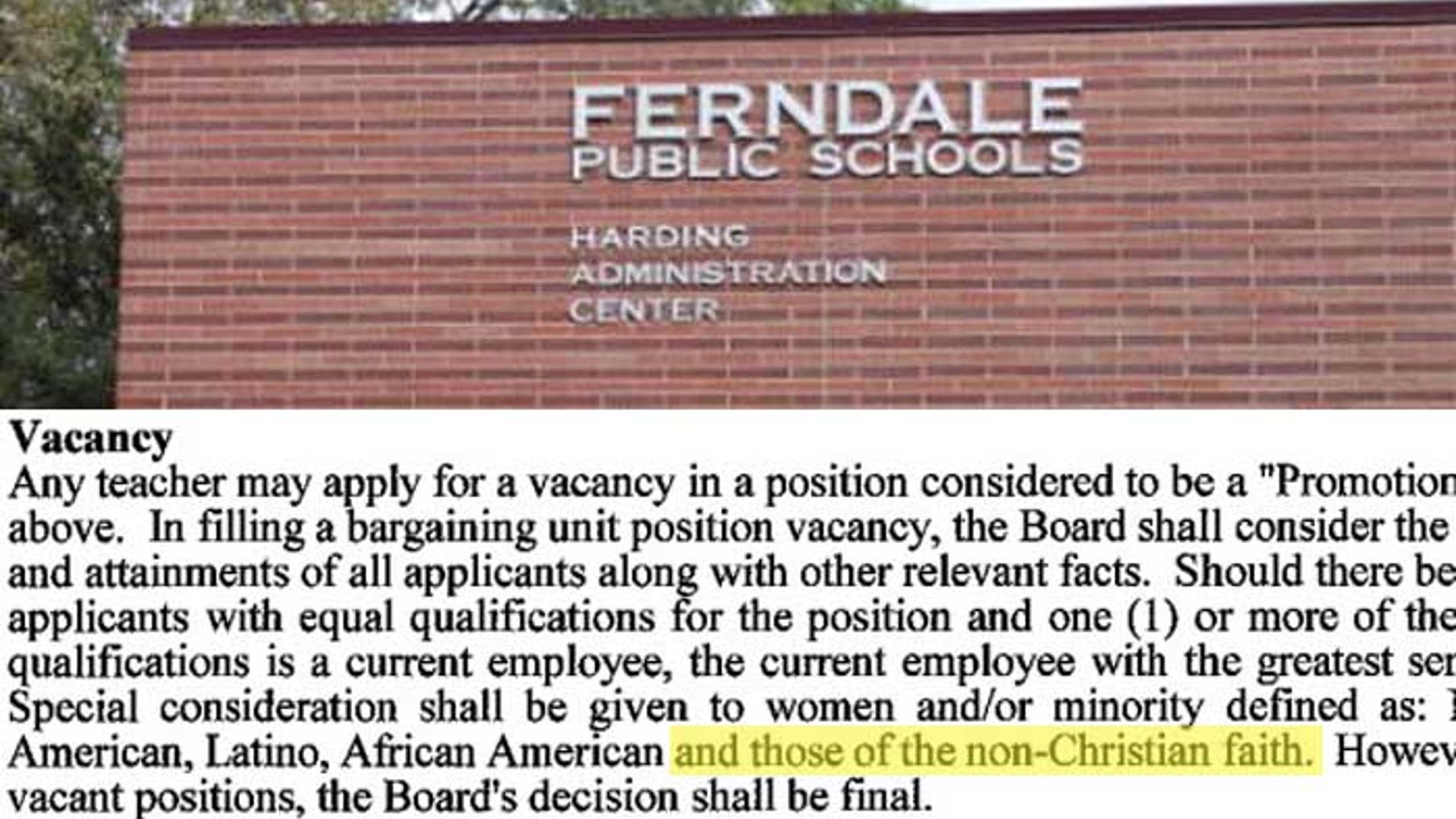 A Michigan school district's written policy of giving hiring preference to non-Christians has been scrapped after more than 30 years, and officials say they have no idea how the clause - which they insist was never invoked - ever made it into the teachers' union contract.
The teachers union contract in Ferndale Public Schools in Oakland County contained a clause that gave "special consideration" to applicants that are of "the non-Christian faith." District officials say they didn't even know about the clause, which the Mackinac Center for Public Policy, a Michigan-based, nonpartisan research and educational institute, found while reviewing teacher contracts in the state's 200 biggest public school districts.
The clause was meant for current school employees seeking to apply for a vacancy within the district -- and made clear that certain "minorities," including those "of the non-Christian faith" will be given special consideration.
"Any teacher may apply for a vacancy in a position considered to be a "Promotion" as defined in Section 2 above," the clause read. "Special consideration shall be given to women and/or minority defined as: Native American, Asian American, Latino, African American and those of the non-Christian faith."
After the Mackinac Center contacted Ferndale Public Schools about their finding, which was reported by the nonprofit site Education Action Group, the suburban Detroit school district and its teachers' union promptly removed the clause.
[pullquote]
In a statement sent to FoxNews.com, Ferndale school officials said, "We don't know why and how it was first placed into the contract" and, "It has never, to our knowledge been enacted or cost an applicant a job.
"Earlier this week, Ferndale Public Schools learned of antiquated language in employee contracts that we somehow missed when recently bargaining contracts," Ferndale Public Schools spokeswoman Shelley Rose said in an e-mail. "This language dates back to at least 1979, and is not in compliance with current legislation. Fortunately, the district also has newer and strong anti-discrimination language in the contracts and has never, in our known history, enacted this now out-of-date language."
"Discovery of this antiquated language and the ensuing media storm is embarrassing to the district, but has afforded us an opportunity to update our contracts to reflect current law and long-time anti-discrimination practices," Rose said. "Ferndale Public Schools takes the issue of discrimination seriously and has acted swiftly to resolve this unfortunate contract language issue."
The clause appeared in the lengthy document after a "no discrimination" clause, stating that no employee shall be discriminated against based on religion. Officials for the teachers union, the Michigan Education Association, did not return calls for comment.
"At this point, we have to extend good will and take it at their word that it's been there since the 1970's, but it should never have been there in the first place," Mackinac spokesman Ted O'Neil told FoxNews.com.
"Typically, these contracts are updated every three years," O'Neil said. "They should be going through these things very carefully and it's surprising it wasn't caught before."
"I think it definitely is possible that it either cost someone a job change or at one point dissuaded someone from changing jobs if they knew that clause existed," he said.
The Federal Civil Rights Act prohibits employment discrimination based on religious faith. And Michigan's constitution states clearly that it, "shall not discriminate against, or grant preferential treatment to, any individual or group on the basis of race, sex, color, ethnicity, or national origin in the operation of public employment, public education, or public contracting."