Michigan couple locked 5 kids in 'dungeon,' threatened them with loaded gun: report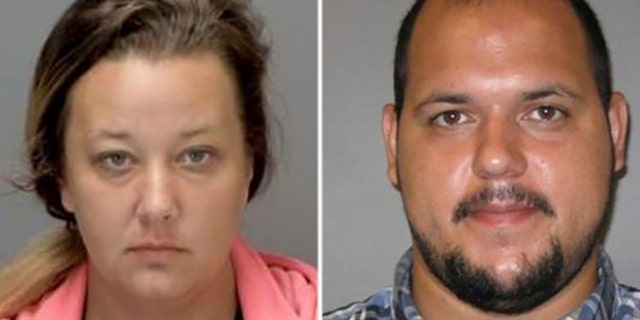 Five children in Lansing, Michigan were confined to a "dungeon" for lengthy time periods and whipped as punishment by their parents for at least six years, police said.
Yenier Conde, 32, and Sarah Conde, 28, would often lock their kids in a bedroom, which a police officer described as a "dungeon," and screw the door shut, the Lansing State Journal reported Thursday.
CALIFORNIA DAD CHARGED WITH SEX CRIMES AFTER 10 KIDS RESCUED FROM FILTHY HOME
The children, now between the ages of 6 and 11, who would have no food or bathroom in the dark room, reportedly told Child Protective Services (CPS) they were often beaten and threatened with guns.
The alleged abuse began in 2011 and continued until 2017 when it was discovered, Lansing Detective Pete Scaccia said at a hearing, in which he detailed the physical and verbal abuse the couple allegedly inflicted on their children. He said they also refused to allow them medical care. Onc child was reportedly not allowed to continue to see their cancer doctor.
In one instance, after the children flooded the home's bathroom, Sarah Conde lined them up and aimed a loaded gun at them, according to her oldest son.
"She almost shot us. She made us stand in a line. She was laughing with her gun. She was about to shoot us," the boy told investigators. "She said, 'Stand in a line so that the blood can spill on (the oldest boy) and then (he) can come up front and I can shoot him.'"
The son reportedly said Sarah Conde pointed the gun at the youngest child's face and pulled the trigger, but the gun jammed. The mother told the kids they got lucky and told them to go upstairs, one of the children said.
CPS, according to the report, was called on the family at least 12 times since April 2009 before the children were removed from the Condes' custody last year.
'HOUSE OF HORRORS' SIBLINGS ENJOYING LASAGNA, 'STAR WARS' AND MODERN TECHNOLOGY, ATTORNEY SAYS
The children have since been placed in to foster care.
The Condes were each charged with 10 counts of first and second degree child abuse and unlawful imprisonment on Friday, the Journal reported.
A hearing for Sarah Conde is scheduled for Aug. 3.