Mega Millions fever: What $1.6 billion can buy you
It's one of the more exciting things to think and talk about this week – what would you do if you won the largest jackpot in U.S. history?
The Mega Millions drawing happening Tuesday night has swelled to $1.6 billion and could grow even more if no one wins. How do you make sense of that type of money? And where and how would you even start to spend it?
Fox News cameras were allowed inside one of New York City's most expensive and fabulous apartments for sale with the asking price of $28.5 million, which would be a pretty decent place to start if you wanted to have a Manhattan residence with views fit for a king.
The two-floor luxury duplex listed at One57, along Manhattan's 57th Street, has an outdoor space that some New Yorkers could easily call the size of their living room, at 671-square feet. The line of sight over the tops of Central Park's estimated 20,000 trees currently turning shades of auburn and yellow that comes with this condo is breathtaking, yet would be affordable if you scored the winning numbers.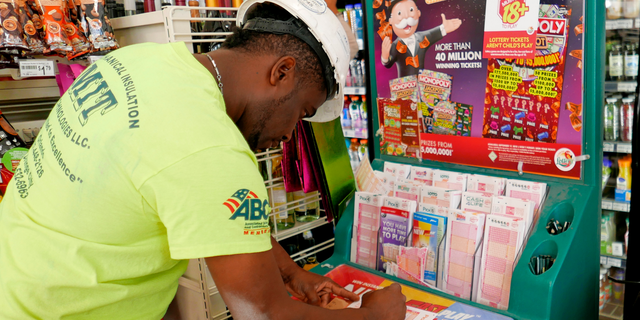 Of course, there are many other options for peeling off large wads of cash. You could, for instance, use your winnings to travel to space aboard Virgin Galactic for $250,000. You could even take a couple thousand of your closest friends. You could also buy some serious bling and pick up the Graff pink diamond for $46 million or perhaps purchase a pricey pooch, a Tibetan Mastiff, the world's largest dog, for $1.5 million.
MEGA MILLIONS JACKPOT CLIMBS TO $1.6B: WINNING ODDS, LUCKY NUMBERS AND EVERYTHING ELSE TO KNOW
From coast to coast, people are lining up to buy their tickets in record numbers. Your odds of winning tonight are 1 in 302.5 million – certainly a long shot. But many say they are just happy to have a chance to dream this big.
About $1.6 billion sounds like a lot, and it is, but you won't walk away with that much money if you win.
Historically most winners take the lump sum option as opposed to the yearly payments, which comes out to roughly $904 million before the federal government takes its cut. After federal withholdings, the winner winds up with $569 million, but then the state the winner lives in also collects a share (unless it's a state that has no state tax.)
Mathematicians say you'd have to buy hundreds, even thousands of tickets to get better odds. But there's always a chance, right?
Whether you're a gambler or just a hopeful romantic in search of fast-cash fantasies, this is your day to take a shot, with $2 and a dream, and you pick all the right numbers on six little balls, the possibilities are nearly endless.
Call me if you win for the exclusive!