Man who got parents' postcard 55 years later to visit Chicago aquarium depicted on it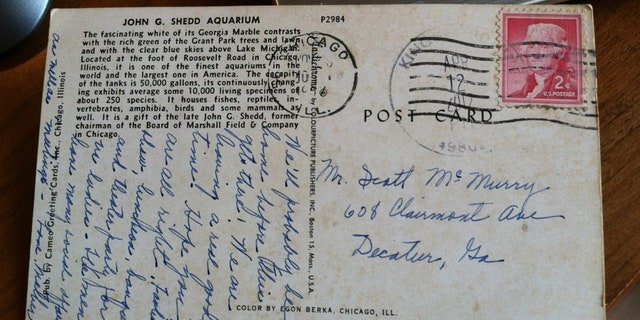 NEWYou can now listen to Fox News articles!
The Virginia man who received a postcard from his parents nearly 60 years after it was sent is headed to the Chicago aquarium shown on the long-lost piece of mail.
After FoxNews.com reported that the postcard, featuring a 2-cent stamp and a loving message from the parents of Scott McMurry, had turned up in the mail of a Florida woman, officials at Chicago's John G. Shedd Aquarium stepped in to tie a bow around the bizarre affair. McMurry told FoxNews.com he's accepted an expenses-paid offer to come visit the Windy City aquarium depicted on the long-lost postcard.
"It will be the first time actually seeing Chicago. The only time I've been there is at the airport," said McMurry, who hasn't yet worked out the details of his trip. "It should be interesting."
[pullquote]
The postcard, which was sent to McMurry in 1957, when he was a junior in high school and his parents had taken a trip from their Decatur, Ga., home, includes the loving message: "We'll probably be home before this gets there."
Officials at the Windy City aquarium said they are thrilled to show McMurry the attraction his parents once visited.
"You don't see something like this everyday," Andrea Smalec, a spokeswoman for Shedd Aquarium told FoxNews.com. "We invited Mr. McMurry and his family so they can enjoy a place that his parents enjoyed 60 years ago, with some added attractions of course."
It's been an amusing whirlwind week for McMurry, who was tracked down by South Daytona schoolteacher Elizabeth Fulcher after she found the old postcard in her mail. Days later, an official from McMurry's local post office in Falls Church, Va., personally delivered the postcard to his home.
"I guess they wanted to make sure it got to me this time," McMurry quipped. "How it got to South Daytona is beyond me."
Postal service officials believe the postcard languished in someone's home for decades before going back into circulation..
"This often occurs when someone purchases an older home, or moves from a residence, and finds mail," United States Postal Service spokeswoman Enola Rice told FoxNews.com. "They do not want to hold on to someone else's mail, so they place it in a mailbox."
McMurry plans to frame the postcard, and noted he has kept several letters from his mother over the years. But he is still puzzled about the strange odyssey of the card.
"It's hard to explain," he said. "I'll probably never know."