Snail mail: Postcard arrives to wrong house, half a century later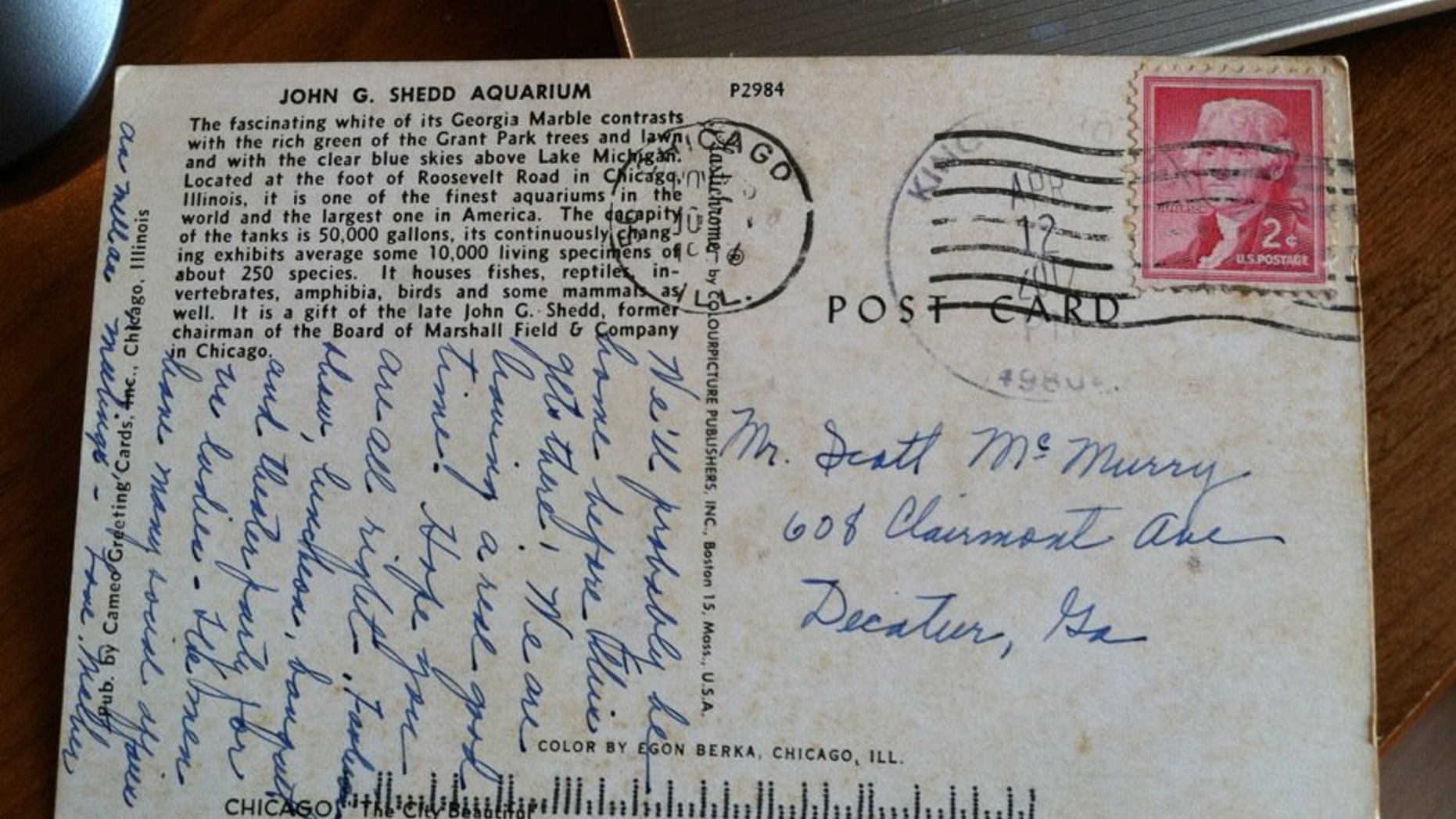 Talk about snail mail!
The nearly 60-year journey of a postcard through at least four states is finally winding down, although the little Georgia boy whose parents wrote him during a trip to Chicago is now 71 years old. The postcard, with a picture of the Windy City's Shedd Aquarium on the front and a 2-cent stamp on the back, landed in the mailbox of Elizabeth Fulcher, of South Daytona, Fla., last week.
"I looked at it and saw it had a 2-cent stamp and thought, 'Wow, this looks really old,'" Fulcher told FoxNews.com.
She posted a photo of the postcard on Facebook and her friends went to work tracking down its intended recipient, Scott McMurry, a Justice Department historian now living in Virginia.
"It's really my friends who just went to work and were able to track him down and get his phone number after I posted this on Facebook," Fulcher said. "My friends were pretty amazing."
[pullquote]
That was only half of the mystery. Figuring out where the postcard had been all these years required even more sleuthing. Fulcher, a high school teacher, went to work.
"I share a partial street address with the intended recipient, and this was sent at a time when postage was only 2 cents," Fulcher said. "Then I went to Google and found out the 2-cent stamp was used in 1959 and again in the 1980s."
Meanwhile, Fulcher's friends had located McMurry, allowing her to send him an e-mail -- which arrived immediately . She emailed him a photo of the postcard and he wrote back: "Yes, that's my mother's handwriting!"
On Friday, just as Fulcher was trying to figure out how she would get McMurry his postcard, there was a knock at her door. It was the mail carrier, and he wanted the postcard.
"They said it was their property," Fulcher told FoxNews.com. "I was a little hesitant to give it back to them, obviously, but they said it's their property, so I had to give it to them. I love my mailman, but I was concerned about sending it in the mail to Dr. McMurry. I made my mailman pinkie swear it wouldn't get lost again."
The feds took over the mystery along with the actual postcard, possibly clearing their own name in the process. The big clue? A recent postmark from Michigan.
"The postcard has a postmark that is 60 years old, but it also has a postmark of April 12, 2012," United States Postal Service spokeswoman Enola Rice told FoxNews.com via email.

"The likely scenario is that the postcard was correctly delivered 60 years ago and discovered recently and placed in a mailbox. This often occurs when someone purchases an older home, or moves from a residence, and finds mail.  They do not want to hold on to someone else's mail, so they place it in a mailbox.
"We will ensure that the postcard is delivered to Mr. McMurry," Rice added.
But as Fulcher pointed out, one never knows for sure until it arrives. McMurry's mother would have never believed it would take 60 years for her postcard to get to her son. The first line of the long lost card, written by Mrs. McMurry to her son Scott 60 years ago, reads:
"We'll probably be home before this gets there!"