MAGA hat-wearing 'Proud Boys' run out of LA bar by Democratic Socialists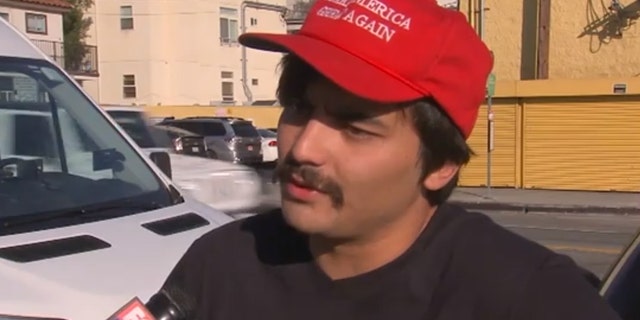 A group of "Make America Great Again" hat-wearing supporters of President Trump were confronted by liberal activists in a Los Angeles bar Saturday night.
The Democratic Socialists of America Los Angeles chapter, along with the anti-gentrification group Defend North East Los Angeles, descended on the Griffin to confront the Proud Boys, a controversial right-wing men's group who describe themselves as "western chauvinists" who "refuse to apologize for creating the modern world".
DSA Los Angeles tweeted: "The bar knew about it and the manager defended them, but we shut it down anyway. Don't let the Nazis convene in your city!"

"No Proud Boys, no KKK, no fascist USA," the left-wing activists chanted as seen in a profanity-laced video from the incident, along with "F--- you fascist," "Get out of here, Nazi," and "Fascist pigs squeal – you're all swine, sweaty swine."
TEACHER REPORTEDLY COMPARES PRO-TRUMP MAGA HAT TEEN TO NAZI IN VULGAR TWEET: 'F--- EM'
A Griffin employee is seen on video asking why he should kick out the Proud Boy members, to which one of the DSA organizers, Josh Androsky, responds: "They're Nazis."
The employee responds, "Why do they have black guys and Mexican guys with them?" as Androsky tries to convince the bar staff to kick out the group.
Gavin McInnes, the founder of Proud Boys, tweeted that of the 19 members at the bar, only three were non-Jewish, non-Hispanic whites, but that didn't matter to Androsky.

"The First Amendment protects the right to peaceably assemble. There's no such thing as a peaceable assembly of Nazis," Androsky told the Los Angeles Times. "Just by virtue of their ideology, they are causing harm."
Androsky also said he stole a MAGA hat from one of the members.
"After the Nazis shoved my girlfriend, my retaliation was to grab one of their hats and chuck it outside, and I feel great about my decision," he said.
One of the Proud Boys, Levi Romero, told FOX 11 that Androsky went to the bar and told him his MAGA hat was racist and allegedly called him a "stupid Mexican". This was after Androsky tweeted to his 17,000 followers that "vile scum proud boys showed up to the griffin in Atwater village if anyone wants to go yell at 'em or even wow them with displays of strength by managing to actually rip apart a protest sign."
"It's America," Romero said. "We should be able to express our opinion without getting accosted."
While the Proud Boys tweeted that the group was just drinking and keeping to themselves before Androsky showed up, others on Twitter have alleged that they were looking for trouble.
GOP INTERNS: UBER DRIVER REFUSED US SERVICE BECAUSE OF MAGA HATS
LAPD responded to a 911 call but no one was arrested nor any report filed, because both groups agreed to leave the scene.

Androsky and others called for a boycott of the Griffin, even though the bar has apologized and said no "hate group" will be welcome in a lengthy Facebook post.
"We are not a bar that in any way supports hate groups and any staff that does will be dealt with."
This incident comes after reports emerged that members of the Trump administration, including those wearing MAGA hats have been publicly heckled and berated.