Lottery winner survives helicopter crash in North Carolina
A man who hit the lottery last year had a double dose of luck on Wednesday when he was able to crawl away after crashing a helicopter on the front yard of his home.
Investigators from the Federal Aviation Administration said Timothy Kniess, 56, was trying to hover when the helicopter's tail rotor got caught on a tree branch and the aircraft crashed at his home in Iron Station, located about 25 miles northwest of Charlotte.
"He was able to crawl away from the crash before it was engulfed in flames," said North Carolina State Highway Patrol Trooper Jeffrey Swagger told FOX46.
Kniess suffered some minor scrapes but no serious injuries.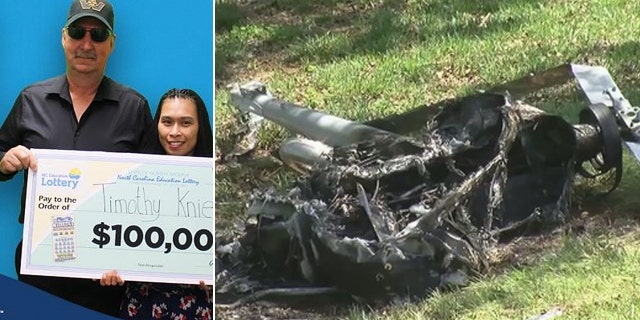 Swagger added that Kniess was "very fortunate" to not have received more serious injuries from the incident.
The 56-year-old was in the news last October when he won $100,000 on a scratch-off ticket after having his wife scratch the ticket, The Gaston Gazette reported at the time.
GEORGIA MILITARY PLANE CRASH KILLED 9 AIRMEN; AIRCRAFT WAS MANUFACTURED IN LATE 1970S, OFFICIALS SAY
At the time, he said he planned to purchase a workshop with his winnings but neighbors said Wednesday he recently purchased the  Mosquito XE helicopter.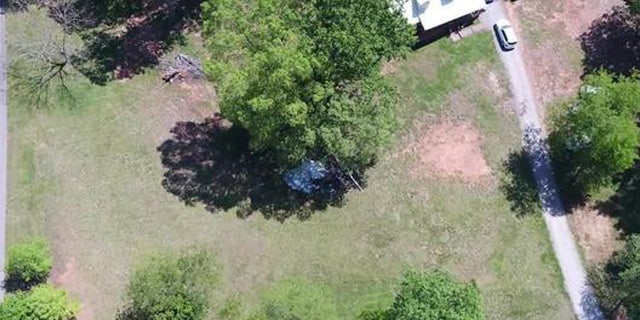 "Man bought a helicopter, he woke up one day and said 'today's the day, I identify as a pilot, bought a helicopter.' Hell I can't tell a man what to do in his own property," neighbor John Aubery told FOX46.
The FAA said that investigators will be looking into the pilot's certification. The North Carolina State Highway Patrol told FOX 46 that Kniess wasn't experienced, and could not find any certifications under his name.
The National Transportation Safety Board will continue with the investigation, and determine if any citations will be issued. Neighbors said they couldn't believe Kniess' extended luck.
"God was watching out for him, that's all I can say," Aubery said.