Los Angeles police say mother and son suspected in Dodger Stadium assault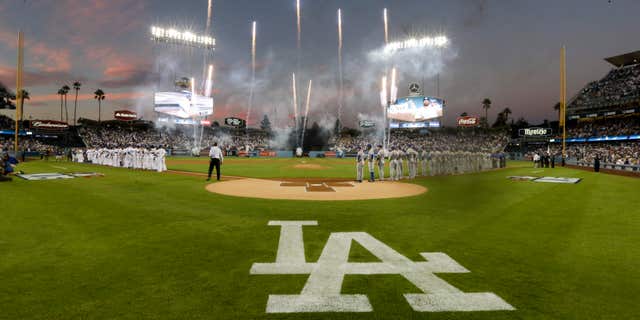 A mother and a son are suspected of assaulting and critically injuring a man outside Dodger Stadium Friday following the first game of the National League Division Series between the Los Angeles Dodgers and New York Mets, Los Angeles Police Chief Charlie Beck said Tuesday.
Police declined to discuss what started the fight but Beck said that detectives were reviewing video that captured the assault in hope of tracking the suspects down. Police described the mother as being in her 40s or 50s and her son as being between 25 and 30 years old.
As of Tuesday, the man injured in the fight was in serious but stable condition. Detectives had begun interviewing him for more details about what happened.
The fight occurred in the stadium parking lot after the Dodgers lost to the Mets, 3-1. It began with an argument and quickly escalated into violence, police said. Beck declined to discuss whether the injured man and the suspects knew each other or whether they were rooting for opposing teams.
The New York Post reports the assault occurred at 10:30 p.m. Friday night. The victim, allegedly a Mets fan, lost part of his skull in the assault, according to The Post.
A witness told KABC the man was "bleeding profusely from the head" after getting punched and hitting the ground. The man is from Bakersfield, Calif., according to KGET.
Beck called the assault very unusual, saying that stadium security has been significantly enhanced since a 2011 attack that left San Francisco Giants fan Bryan Stow with brain damage.
"Anyone who goes to games now sees uniformed officers inside the venue as well as outside the venue, particularly for championship games or key rivalries," Beck said. "But it is a big facility, and you can't be everywhere all the time."
Beck urged anyone who saw or recorded the incident to contact police.
Beck said police will have a strong presence at the stadium for Thursday's decisive Game 5, "particularly with the tensions between the two teams right now, and the fans obviously."
"There's been a significant amount of rivalry here — a lot at stake," he said.
Police said the number of fan expulsions were higher than usual at Friday's game, though they didn't have specific figures.
Security at Dodger Stadium came under national scrutiny after the attack on Stow. Two men — Marvin Norwood and Louie Sanchez — pleaded guilty in the beating and went to prison.
Stow sued the Dodgers and their former owner Frank McCourt, blaming them for the attack because of insufficient security and lighting. A jury faulted the team, along with Sanchez and Norwood, and awarded Stow nearly $18 million after a six-week trial in 2014.
Click for more from the New York Post.
The Associated Press contributed to this report.