Los Angeles police believe murder of two teen girls was gang related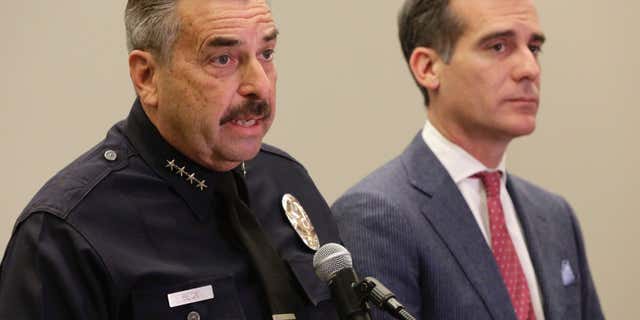 NEWYou can now listen to Fox News articles!
Los Angeles authorities charged two teenage gang members with murder Thursday in the deaths of a 19-year-old woman and her 17-year-old friend last fall, leaving their bodies near a popular hiking trail where a woman walking her dog had found them.
Jose Antonio Echeverria, 18, known as Klepto, and Dallas Stone Pineda, 17, known as Trippy, were held without bond. Echeverria could face the death penalty and Pineda, as a minor, could get a life sentence.
Los Angeles Police Chief Charlie Beck said Echeverria and Pineda knew the victims, Gabriela Calzada, 19, and Briana Gallegos, 17. Both of their bodies were found on Oct. 28 near a path in Ernest E. Debs Regional Park in Montecito Heights, nearly five miles from downtown Los Angeles.
Beck described the scene as horrific and declined to say whether the victims had gang ties or why police think they were targeted.
"This was motivated by hatred between gangs, and unfortunately these two very young, very innocent victims fell prey to that," he said. "These were young, vibrant women who certainly did not deserve to die."
Calzada and Gallegos were fully clothed and showed no signs of sexual assault. Their head wounds were significant enough that they were barely recognizable, police have said. The girls' deaths have shaken the community around the park.
Los Angeles Mayor Eric Garcetti said that Calzada had been a leader in a youth group and had committed to turning her life around, according to KTLA.
"This type of crime obviously shakes a community down to its core," Capt. Martin Baeza said. "We've had a community on edge for about four months."
He said police were holding a town hall meeting in the neighborhood on Thursday night, partly to assure residents that the crime was not random and that police are continuing to patrol the area.
Echeverria was charged with attempted murder and shooting an occupied vehicle in a separate incident. The attempted murder charged stemmed from a Jan. 29 incident, according to KTLA.
Pineda's mother told KTLA Wednesday that her son had initially been ruled out as a suspect in the murders. She said he had been questioned a week after the bodies were found.
"All I've got to say is, he's innocent," she told the station.
The suspects are to be arraigned March 8. It's unclear if the pair have attorneys.
The Associated Press contributed to this report.