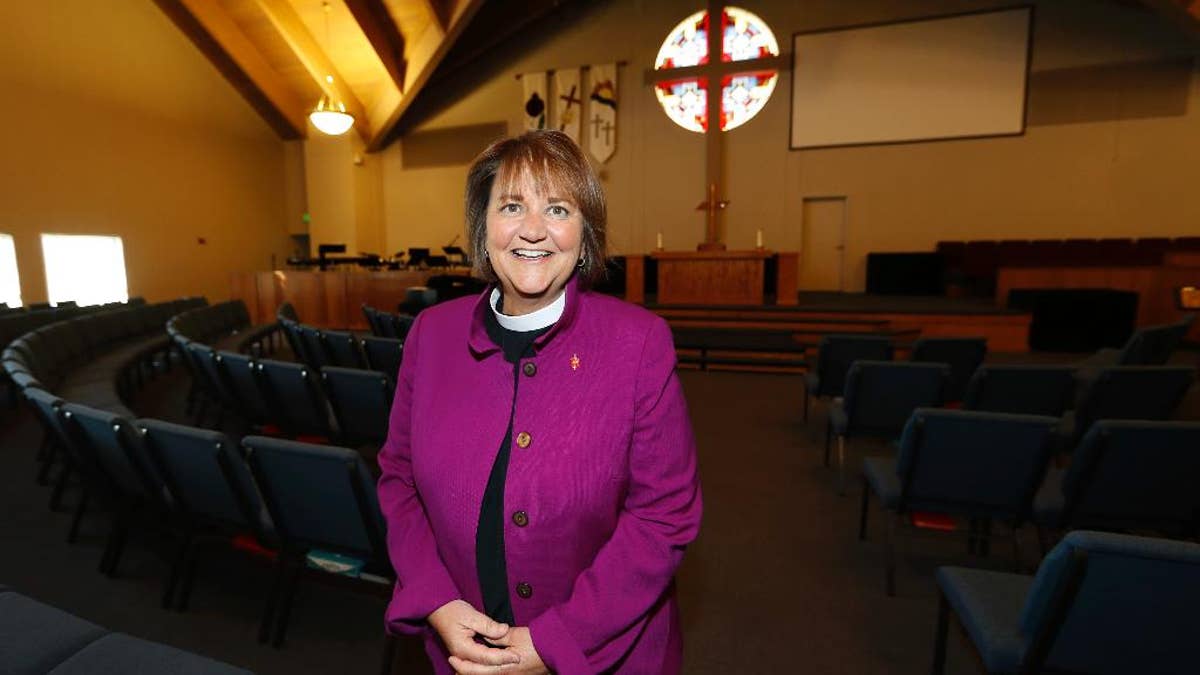 NEW YORK – Karen Oliveto clutched a friend's hand, closed her eyes and wept when she learned last year she had been elected a bishop of the United Methodist Church. Oliveto, who is married to another woman, had become the denomination's first openly gay bishop.
Within minutes, a formal complaint was filed challenging her election as contrary to the church ban on clergy who are "self-avowed practicing homosexuals" — a petition that the highest Methodist judicial authorities agreed to consider. On Tuesday, the court will take up the closely watched case, the latest flashpoint over LGBT rights in a denomination splintering over the Bible and homosexuality.
"It highlights very greatly that we are two different churches and that the real difference is whether or not we're going to live by the covenant that we each have agreed to," said the Rev. Rob Renfroe, who leads Good News, a caucus of evangelical Methodists that has lobbied to uphold current teaching. Said Oliveto, "I'm in deep prayer, reminding myself of what God has called me to do."
Oliveto, who is based in the Denver area, will attend the hearing in Newark, New Jersey, accompanied by fellow bishops from the church's Western Jurisdiction, her wife, mother and childhood pastor. LGBT clergy and their supporters plan to pray outside and wear T-shirts listing the first names only of gay clergy who would risk losing their ministerial credentials by coming out.
The goal is to underscore the human cost of church policy, said the Rev. Lea Matthews of the LGBT advocacy group Methodists in New Directions. Prayer vigils are planned in the Methodist Mountain Sky Area region, which Oliveto leads, while others will join a prayer vigil online.
The court, or Judicial Council, is expected to issue a ruling a few days later.
The 12.8 million-member church, the third-largest in the U.S., was already in turmoil over same-sex relationships when Oliveto was elected. Methodists approved language in 1972 calling same-gender relationships "incompatible with Christian teaching." The top church policy-making body, or General Conference, has upheld that policy ever since, even as LGBT rights gained acceptance and other mainline Protestants, including the Episcopal Church and the Presbyterian Church (U.S.A.), approved same-sex marriage. In recent years, the Methodists have seen their greatest growth overseas, especially in Africa, among more theologically conservative people, who have been standing with U.S. evangelical Methodists against recognizing same-gender relationships.
Deeply frustrated, Methodist LGBT advocates have stepped up pressure for new policies, holding same-sex weddings in defiance of church prohibitions and coming out as gay and lesbian from the pulpit. Conservatives responded by intensifying demands for church discipline over such actions. In one high-profile case, the Rev. Frank Schaefer was tried by a church court and defrocked for presiding at the wedding of his son to another man. Schaefer was later reinstated as a minister on an appeal of the ruling.
These divisions erupted dramatically last year at a meeting of the General Conference, which was rife with talk of a possible schism. At one point, LGBT advocates on the perimeter of a session lay on the floor with rainbow-colored duct tape over their mouths. In a narrow 428-405 vote, the conference delayed consideration of LGBT-related proposals and instead created a panel, called the Commission on a Way Forward, to review all church policy on human sexuality, aiming to find a way to keep the church together.
Renfroe said he was more focused on the outcome of the commission's work than the Oliveto hearing, although he said her election has made it harder to persuade conservative congregations to stay with the denomination while the commission conducts its review. Two large Mississippi congregations recently voted to move toward a split from the church.
In making a ruling, the high court will consider technical aspects of church law, contained in the Methodist Book of Discipline, said William Lawrence, a professor at the Perkins School of Theology at Southern Methodist University and a former member of the Judicial Council. Potential outcomes range from a technical decision on procedure alone that keeps Oliveto in place to a decision that would void her election, Lawrence said. "There is an extraordinary range," Lawrence said.
Ahead of the hearing, Oliveto released a video message to her church region in which she expressed some anxiety. "I find myself holding my breath in this time of uncertainty," she said. But she said she felt assured that "God is working God's purpose out."
"I love being your bishop," she said, then asked Methodists to pray.