'Legally Dead' Man Faces Murder Charge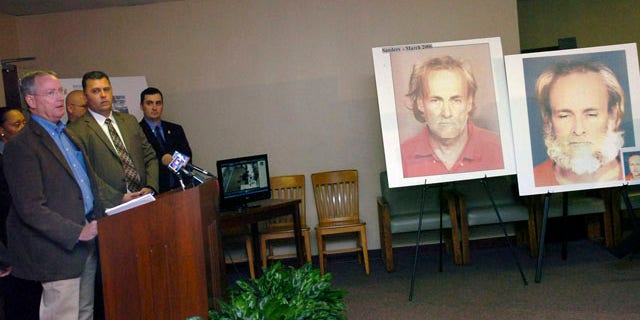 JACKSON, Miss. -- A Mississippi man who drifted through several states after he was declared dead in 1994 will be charged with murder in the slaying of a 12-year-old Las Vegas girl whose body was found by hunters in remote Louisiana woods, authorities said Wednesday.
Thomas Steven Sanders is scheduled to face a federal magistrate Friday at a detention hearing in Alexandria, La., on a kidnapping charge. Sheriff James Kelly in Louisiana's central Catahoula Parish, where the girl's body was discovered last month, said his department will charge Sanders with first-degree murder once federal prosecutors finish processing the suspect on the kidnapping charge.
Federal prosecutors had charged Sanders with kidnapping Lexis Roberts after he was arrested Sunday at a truckstop in Gulfport, Miss., capping a massive nationwide manhunt. Sanders was transferred to a Louisiana jail the next day.
Sheriff's Investigator Toney Edwards in Catahoula Parish said authorities there expect to book Sanders early next week. Kelly said the suspect would then be returned to federal custody.
Roberts' body was found by hunters in woods off a dirt road Oct. 8. She had been shot, Edwards said. Authorities said security cameras showed Sanders buying ammunition Sept. 3 at a Walmart in Las Vegas and the bullets were consistent with the weapon used to kill Lexis.
Sanders, 53, also is a suspect in the disappearance of the girl's mother, 31-year-old Suellen Roberts, who is now presumed dead, according to authorities. Officials said remains found Monday in northwestern Arizona are likely those of the girl's mother.
Sanders and Suellen Roberts were in a relationship after meeting a few months ago in Las Vegas and planned a road trip for Labor Day weekend when the woman and daughter disappeared, authorities said.
"It's such a complicated case -- a dead man who's wanted for murder. All the different states involved. There's even different jurisdictions within the states that are involved," Kelly said.
A public defender who represented Sanders during a brief hearing in Mississippi hasn't responded to phone messages left by The Associated Press. Sanders did not enter a plea at that hearing.
Sanders' family petitioned a Mississippi court to have him declared dead in 1994. The family had not heard from him since 1987 and his wife had divorced him the following year, according to court records obtained by The AP.
Even though he had been legally declared dead, Sanders lived unnoticed by authorities despite being arrested several times under his real name.
Much of his past is a mystery. He didn't buy property and establish many bills in his name, things that create a paper trail for most people. The most definitive accounts of Sanders' life after being declared dead come from arrest reports. Even some of those are sketchy.
Jim Knoll, a police spokesman in Clarksville, Tenn., said Sanders was arrested there in November 2002 for driving on a revoked license. Police records indicated he had a Tennessee identification, though he was from McComb, Miss. He used an address for a room at a local motel where most residents are transients. He was arrested in Tennessee again in March 2003 for possession of drug paraphernalia.
He also was sentenced to two years in Georgia for simple battery. State and federal authorities said that charge involved a minor, but they haven't elaborated.
He has been traced to Mississippi, Louisiana, Tennessee, Georgia and Nevada. He worked as a laborer, a welder and a scrap metal collector. Authorities said he sometimes gave his name as Tom or Steve or the nickname "Spider."
He signed court documents in the kidnapping case as T.S. Sanders.