Lawyer known as 'Mr. Social Security' arrested in disability claims scheme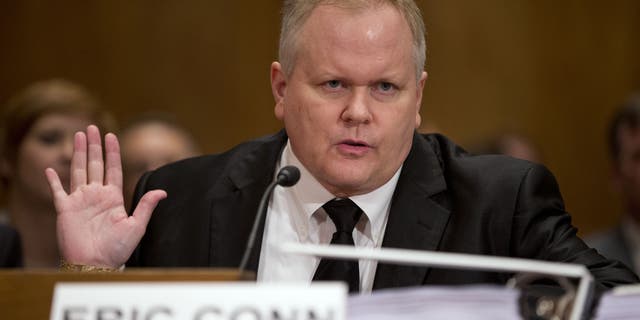 Eric C. Conn, the flamboyant Kentucky lawyer who billed himself as "Mr. Social Security," has been indicted on allegations that he made millions by paying a doctor and a judge to rubber-stamp false disability claims using phony medical evidence.
Conn was indicted along with David Daugherty, a Social Security administrative law judge for more than two decades, and Dr. Alfred Bradley Adkins, a clinical psychologist. They are charged with 18 counts altogether, including fraud and conspiracy, according to the indictment unsealed Tuesday.
"The defendants are charged with designing an intricate scheme, using their expertise and positions of authority, to fraudulently induce payment of $600 million in federal disability and healthcare benefits," Assistant Attorney General Leslie R. Caldwell said in a news release Tuesday.
Until his arrest late Monday, Conn had escaped legal consequence for years, even after the Social Security Administration last summer cut off disability payments to hundreds of his clients in the impoverished coalfields of eastern Kentucky and West Virginia. Conn continued to practice law and remains in good standing with the Kentucky Bar Association.
In 2013, the U.S. Senate released a scathing report titled "How Some Legal, Medical and Judicial Professionals Abused Social Security Disability Programs for the Country's Most Vulnerable: A Case Study of the Conn Law Firm."
For 161 pages, the report detailed Conn's relationship to Daugherty and four doctors, and the lengths to which investigators say they went to hide the alleged scheme. It accused Conn of paying the doctors, whom he called his "whore doctors," to sign dubious medical reports showing his clients were disabled. Daugherty then allegedly approved the claims, assembly-line fashion, often without a hearing.
Adkins was the only one of the four doctors charged; another has since died and two more are listed in the indictment as "unindicted co-conspirators."
A federal grand jury in Lexington returned the indictment on Friday, though it remained sealed until Tuesday.
Conn's attorney, James Deckard, declined to comment as he arrived at the courthouse for the defendants' court hearing Tuesday afternoon. Adkins' attorney, Jonah Stevens, said his client "has the presumption of innocence."
Not guilty pleas were entered in court on behalf of Conn and Adkins. Both defendants wore hand and leg irons.
Conn, somber-looking as he entered the courtroom, sat next to former Kentucky Chief Justice Joe Lambert, his co-counsel, and sipped from a cup of water with his hands bound.
Conn remained in custody with a detention hearing set for Thursday. Adkins was released on his own recognizance on the condition he remove from his residence firearms found when he was arrested.
The federal prosecutor, Trey Alford, argued against Conn's release, saying he poses a flight risk and has indicated he would flee, that he has transferred money overseas, including in others' names to make it harder to track, and that his home is for sale.
Deckard countered that Conn has always returned to the U.S. after traveling overseas and has strong ties to eastern Kentucky.
Conn opened his practice in a trailer in 1993 in his hometown of Stanville, Kentucky, population 500, according to the Senate investigation. From there he built the third-most lucrative disability firm in the nation, bringing in more than $20 million in fees between 2001 and 2013.
He became a local celebrity for his over-the-top advertising campaigns. He dispatched crews of "Conn Hotties" to events, hired Miss Kentucky to appear in commercials and had a 19-foot replica of the Lincoln Memorial erected in the parking lot of his office.
Daugherty became a Social Security judge in 1990 and worked in Huntington, West Virginia, according to the Senate report. The report said his fellow judges reported numerous times that he would sign in early in the morning, disappear from the office all day and return at night to sign out. Yet he heard 1,276 cases in 2010 and awarded benefits in all but four of them, according to the report.
The Senate investigation found that Daugherty received $96,000 in cash deposits from 2003 to 2011, some of which went to his daughter Amy when she was running for Magistrate in Cabell County, West Virginia. She lost. Daugherty refused to explain the cash deposits to Senate investigators.
After a Wall Street Journal article questioned Daugherty's approval rate and his relationship to Conn in 2011, the Senate investigation alleges Conn's firm shredded 26,000 pounds of documents, more than 2.5 million sheets of paper, and destroyed more in a bonfire behind his office that burned for four days.
Daugherty was put on administrative leave in 2011 and soon retired.
Conn, according to the Senate report, tried to discredit Sarah Carver, an employee at the SSA office he believed had leaked information to the news media. He allegedly spied on her in an attempt to catch her on video not working on days she was supposed to be telecommuting. The plan failed.
"It's been a long time coming," Mark Wohlander, an attorney who had filed a federal whistleblower suit on Carver's behalf, said of the indictments. "And a lot of people have been hurt as a result of Mr. Conn."