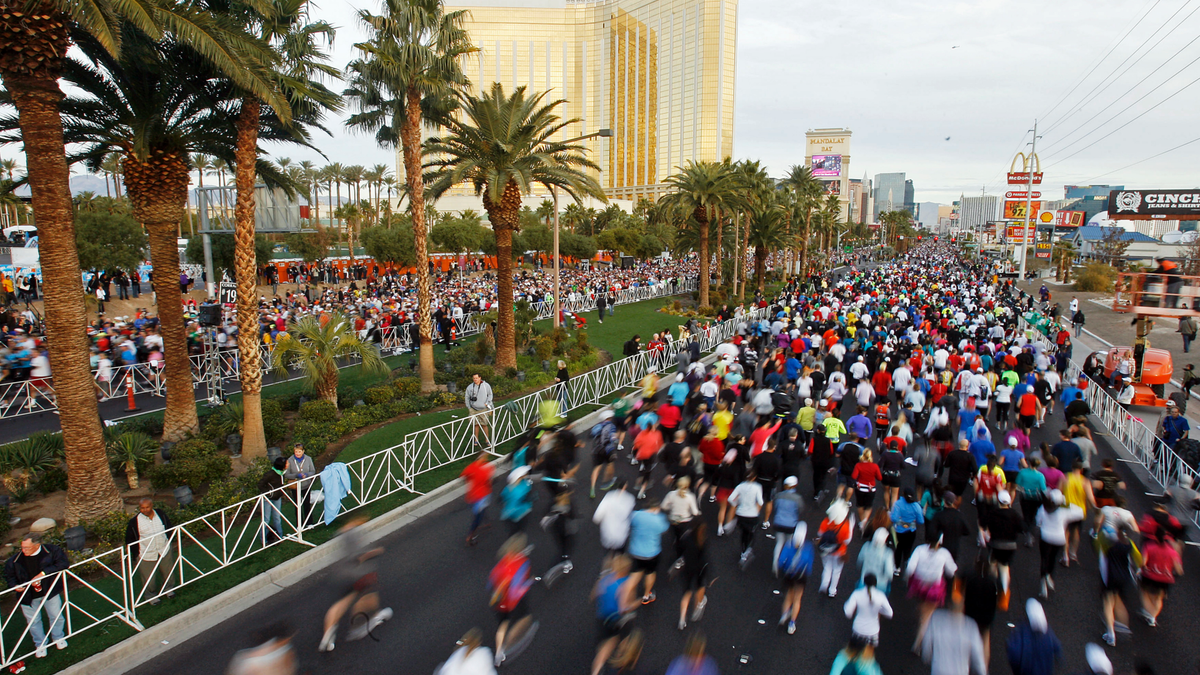 LAS VEGAS – The start line for the upcoming Las Vegas Rock 'n' Roll Marathon has been moved away from the site of the worst mass shooting in modern U.S. history, organizers said Friday.
The Nov. 12 evening race will start in front of the New York-New York resort on the Las Vegas Strip, about 1 mile (1.6 kilometers) north of last year's start near the Mandalay Bay hotel, Rock 'n' Roll marathon series executive Josh Furlow said.
The Mandalay Bay was the hotel from which a gunman on the 32nd floor fired assault-style weapons Oct. 1 into a country music concert crowd of about 22,000 people, killing 58 and injuring almost 550.
After using that same open-air festival ground for pre-race activities the last several years, the gathering spot for this year's marathon and half-marathon will be between the New York-New York and Monte Carlo casinos and the T-Mobile Arena, said Dan Cruz, spokesman for race organizer The Competitor Group.
The overall 26.2-mile (42-kilometer) marathon and 13.1-mile (21-kilometer) half-marathon courses are still being finalized, Cruz said. But the new start line means runners will twice pass the site of the shooting as they run south on the Strip, loop around the "Welcome to Fabulous Las Vegas" sign and head north again past casino marquees.
An on-course tribute is planned near the site of the shooting, including a #VegasStrong signing wall that people can sign during a race expo beginning Nov. 9 at the Las Vegas Convention Center.
Cruz said about 40,000 runners are expected for various races during the weekend marking the 51st running of a race that evolved from a flat, wind-swept desert event in 1967 to a glitzy and music-filled attraction.
There won't be the usual bandstands, musical groups and amplified sound for the first 2.5 miles (4 kilometers) of the marathon and half-marathon, in tribute to victims and affected families, he said.